20-Mule Team video - Courtesy of Caroline Gardner

God Made Mules - A Purpose
by Harold O. Weight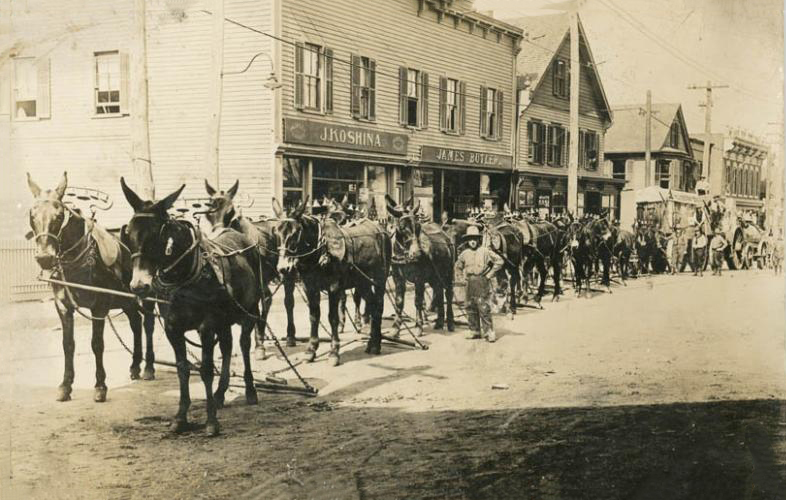 Pacific Coast Borax Company exhibition team on the East Coast in 1919.
(photo by Tex Ewell who drove the team)



The 20-Mule-Team Brigade
by The Pacific Coast Borax Company - 1904
Publication from the Library of Congress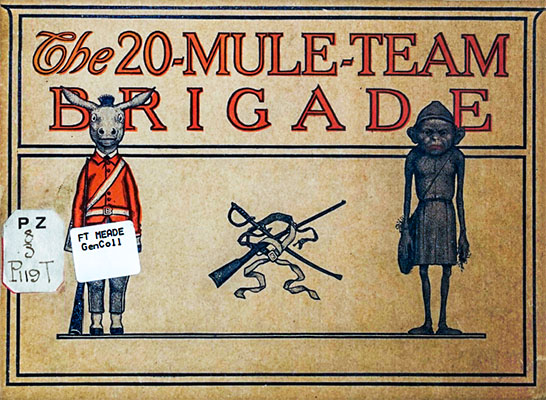 20-Mule_Team image from "The 20-Mule_Team Brigade" publication by The Pacific Coast Borax Company - 1904


William Shadley (left). A driver who died violently on one trip and is buried at Windy Gap
(Photo from 20 Mule Team Days in Death Valley)

Mule team route from Death Valley to Mojave, CA

Dotted line: Ed Stiles' route hauling the first borax from Eagle Works to Daggett.

Long dashes: Route oldtimers say was used from Harmony and Amargosa before opening of Mojave road.

Solid line: Famed 1883-1888 Death Valley-Mojave route of the twenty mule teams.

Short Dashes: Routes followed from middle '70s from Searles borax works.

(Map from

20 Mule Team Days in Death Valley

)

The Pacific Coast Borax Company was founded in 1890 by Francis Marion Smith, who created the company from an amalgamation of several holdings and mine sites in Death Valley, California, and Nevada, and other sites along the Nevada-California border. The company mined for colemanite - a type of borax which was borate of lime. Colemanite contains a higher boron oxide content than other types of borax, a material found in crystal form which is used to work and weld gold. Boron products can also be used in glass manufacturing and as a plant nutrient.

In 1880, a New York office of the Pacific Coast Borax Company was opened, run by J. W. Mather and his son, Stephen, who opened a Chicago office as well. The Mathers were deemed responsible for the use of the "20 Mule Team" as the trademark of the Pacific Coast Borax Company. Francis Marion Smith went to England in 1896 and discovered an English food preservative company which used borax and boric acid. Smith soon signed an agreement with the English company creating The Pacific Borax and Redwood's Chemical Works, Ltd., in which the Pacific Coast Borax Company agreed to sell all its assets to the new organization. The company created a factory in the New York area which proved successful as a liaison between London and the California and Nevada sites.

In 1899, Borax Consolidated, Limited was created in order to search for other sources of raw material besides those in California, and to expand the foreign refining operations. The new company had absorbed Pacific Borax and Redwood's Chemical Works. The company continued expanding operations in the southwestern United States with the construction railroads, which began replacing the 20 Mule Teams. Improved production methods kept prices down and introduced a great variety of borate materials to the market. In 1915 the company acquired the site of the present refinery, at Wilmington, California.

Desert supply station at Daggett before the railroad, showing D.E. Lott's transportation team arriving - 1880. Two men and a woman stand posing on the right side of the station's porch while two other men sit in a horse-drawn wagon at center. Two large double-file ranks of mules stand to either side of the station, hitched to a train of three huge cargo wagons with a rider at left. Mrs Melvina la Pointe Lott, neice of Remi Nadewau was given a 20 mule freight team by Nadeau. The Lotts use the outfit to haul gold ore from the Oro Grande Mines in the Calico Mts. to Daggett.

(University of Southern California Library photo)

Desert supply station at Daggett before the railroad, showing D.E. Lott's transportation team arriving - 1880.

Mrs Melvina la Pointe Lott, neice of Remi Nadewau was given a 20 mule freight team by Nadeau. The Lotts use the outfit to haul gold ore from the Oro Grande Mines in the Calico Mts. to Daggett.

(University of Southern California Library photo)

20 Mule Team unloading borax at Daggett after their trek from Death Valley

(University of California Berkley Library)

ANOTHER

PHOTO

- Courtesy Rocko Bastida

Sydney Smith writes:
Just found your site, and was surprised to find words and pictures of Tex Ewell. Tex and Glenna Ewell were very dear friends; they are both dead now; Tex some 25 years ago or so and Glenna just last year, at the age of 101! I spent many enjoyable hours with Tex and Glenna, on and off horseback, when I was in high school and college in the 1960s and early 70s. Tex was a fine human being and an exceptional horseman. He had a world-class bit collection and horse related library, both of which are unfortunately probably well dispersed by now. Tex wasn't just a muleskinner, he spent time in the cavalry during WWI (veterinary corps) and also in Texas and Mexico during the Pancho Villa escapades. Tex was one of the foundation Arab horse breeders in this country; he had lots of Arabian horses including a stallion named Akil whose bloodlines are much valued today by the legacy Arab breeders. Tex roamed all over the country via horseback and packhorse and horse-drawn vehicle, in the days when it was still possible to do that. He led a very rich life indeed and I certainly feel fortunate to have been able to spend some time listening to stories and pouring through the library.

June 2004



Of Mines and Mules: A History of Daggett
by Cindy Baker

Newly built 20-Mule Team Wagons going for a test run in the California desert before appearing in the 2016 Rose Parade
[Click on image for mp4 video]
(Courtesy Death Valley Conservency)

Twenty Mules — Ten Teams

These are the team names counting from the wagon forward to the front team.

01-02 Wheelers - (Largest & strongest. Sometimes draft horses.)
03-04 Pointers - (Leap over the chains,
05-06 Sixes - & turn sideways, & walk
07-08 Eights - sideways on a curve.)
09-10 Swing - (Workers)
11-12 Swing -
13-14 Swing -
15-16 Swing -
17-18 Swing -
19-20 Leaders - (Intelligence & ability to lead.)



Tales of Twenty Mule Days
by Harold O. Weight



Twenty Mule Team Drivers

(from Harold O. Weight's "20 Mule Team Days in Death Valley")
This list of long line skinners were ones that either Tex Ewel or L. Burr Belden knew.
Salty Bill Parkinson (Borax Bill)
Bill Kibbitts
Frank Tilton
John Pyle
Red Pyle
Manuel Rogers
Frank Wilson
Ed Stiles
Ira Moon
Jim Small
Johnny O'Keffe
Chris Nelson
Tom Elwood
Walter Smith
John A. Delameter
Sam Yount
Eph Beardslee
Charles White
Charles Cortwright
Jeff Riggs
Ed Pitcher
Miles Thomas
Seymour Alf
Tex Ewel
William Shadley
Emery Fleming Morris
Edwin A. McIntosh

According to Tex Ewel, all of the good long line skinners were quiet. "The whooping and hoo-rawing skinner was invariably just a damned poor teamster."

"Ira Moon, now, driving that twenty mule borax team - I never heard him raise his voice above a conversational tone. Fifty feet away you couldn't hear him call the pointers back and forth across the chain. But when he spoke, a mule knew he wasn't fooling and acted accordingly. All the good drivers I knew had a confidence in their own abilities. They were quiet men."

Borax Bill [pdf]

Richard Ford of British Columbia, Canada Writes
Hi,

My grandfather was a teamster in the early days. I am 60 and he died in '46, I believe, so I did not get to know him. One day in the '50s I was watching Death valley Days on early black and white television, and the thought struck me: "how in the heck do they manage to get all those nags, wagons, etc. around the tight mountainous curves?" I asked my pa, who had been told by his pa, that essentially the twenty mule team was split (by a singletree, I s'pose) into two groups 10/10 lengthwise and when confronted with tight curves the skinners would dismount, unhitch the first (or second set-can't remember) of 10 mules and walk them around said curve a ways up until they had straight road ahead and behind. The lead teamster would then ride the acting lead )right hand) mule and the parade of 10 mules, wagons and teamsters around the bend and the whole caboodle would finally link up with the first group and off they'd go. The only drawback to this move was the second set of mules had to haul TWICE the tonnage for a bit. Tough old mules and just as tough as so resourceful skinners! In tha 130 degreed heat it had to be hell as well as labor intensive. Thought I'd pass along this little pear of info along to you as I didn't see it mentioned.

Thanks a bunch,
Richard Ford
November 2008

Patty Deal of Hemet, CA writes:


My uncle Em (Emery Fleming Morris 1859 - ?) was one of the 20 mule team drivers. His parents were James Campbell Morris (1827-1909) and Mary Catherine Moore (1832 - ?). My great great grandparent's daughter, Alice Morris (1854 - 1934) married William Lanzo Becktel (1854 - 1944). They had eight children (4 sons & 4 daughters). One of the sons, James (Uncle Jim) Becktel had the ranch. They all loved coming to Uncle Jim's ranch in Palmdale, along with many celebrities, relatives, and guests. Uncle Jim had three homes on property neat as a pin. Jim's house was a large two story with a 2nd story filled with beds. Downstairs were 3 bedrooms and a living room and kitchen where Uncle Jim cooked for all. They had a lovely bathroom with gold fixtures but you still had to use the outhouse for the toilet! The house was filled with antiques and it was a treat to visit. Uncle "Em" had his own squeaky clean house about 200 or so feet from the main house.

Uncle Jim was written about a lot by the local newspapers because he kept the county road graded. He also contributed to the Knotts [Berry Farm] family throughout the years.


"It Happened Around Here" by Dennis H. Stovall


Emery Fleming Morris



Uncle Jim

Gary McIntosh of Bremerton, WA writes:

My great grandfather Edwind Albert McIntosh came to Nevada in 1871 to find his father Ruluf Crane McIntosh, who came to Lodi, California in 1849. Edwin found Ruluf in Virginia City where Ruluf had moved to and owned a saloon. My father said his grandfather, Edwin, told him he found his father, Ruluf, for the first time playing cards. When Edwin introduced himself to his father Ruluf and told him he was his son, Ruluf said: "Let me finish my hand," which he did, and then they shook hands.

"Edwin was born in McHenry County, Illinois, in 1848. In 1871 he went to Nevada to Pioche and Candelaria and in the boom days he drove quartz teams. He started hauling freight from Wadsworth to Bellville and Candelaria and Old Gold Mountain in 1880, a distance of 240 miles with 16, 18, and some times 20 mule teams. He hauled borax to his destination and on the return trip hauled freight for Frank "Borax" Smith from Marietta to Wadsworth, a distance of 130 miles. In 1881 he occupied himself by hauling railroad freight from Hawthorne to Bodie and a year later he hauled water to the mines above Marietta.

Another chapter in his colorful early day career started in 1883 when he started prospecting for borax in Death Valley. At that time it was readily agreed that the valley certainly deserved its name.

The summer of 1883 found Edwin coming to California where he first worked in the grain warehouses as a weigher, sampler and foreman at Port Costa and Stockton. He continued this occupation until 1903 when he moved his family to San Francisco. He later started teaming in Tonopah, Nevada. He hauled lumber from Tonopah to build the boom town of Goldfield.

In the fall of 1905 his interest returned him to San Francisco and he started working as a packer in the Illinois Pacific Glass Works. He remained in San Francisco until 1926 when he retired from active business and and moved to Willits where he made his home until his death."

Ruluf left Illinois for California before Edwin was born. Ruluf died in Modesto in 1896 and is buried in Stockton. My Dad was a wonderful father and adored his grandfather, Edwin. My Dad passed away 15 years ago from Lou Gerhigs' disease. My Dad traveled to Death Valley and all points in the area 20 years ago looking for information about his grandfather. All to no avail. Edwin and his wife, and my grandfather were living in San Francisco during the earthquake in 1906. They lived south of the "slot" (Market Street) and lost their house. Edwin made a bit of extra money with his team and wagon moving freight through the city after the earthquake. My Dad said his grandfather worked until he was 78, when he thought he had enough money to last until the end (1939). His wife, my Great Grandmother, lived with my family when I was young. She passed away in 1959 at the ripe old age of 98!

November 2003
Text in red is from the October 20, 1939 edition of The Willits News of Mendocino County, CA



Top L to R: Edwind Albert McIntosh, Mary Elizabeth (Robinson) McIntosh (wife), Flora Rebekah (Hudson) McIntosh (daughter-in-law)
Bottom L to R: Kenneth Gerard McIntosh (grandson), Thelma E. McIntosh (granddaughter), Dryden Hudson McIntosh (grandson)


Edwin McIntosh and his sister Amelia McIntosh





The Famous Twenty Mule Borax Team from Death Valley California
by Pacific Coast Borax Company U. S. A.





The twenty-mule teams actually consisted of eighteen mules and two horses. The 500-pound-heavier horses, called "wheelers," could handle the wagon's heavy tongue better. Five sets of wagons freighted the borax 165 miles to the railhead at Mojave. A pair of wagons (excluding the water wagon) carried a payload up to 36.5 tons. The larger steel tires, 1" x 8", ware about 7' tall and 22' in circumference, each weighing 600 to 1000 pounds.
(Steve Willard photograph)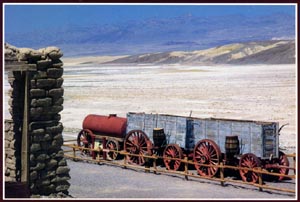 Operating from 1882 to 1889, the Harmony Borax Works was the origin point for hauling refined borax 165 miles to the railroad at Mojave on a three-week round trip.
(Ed Cooper photograph)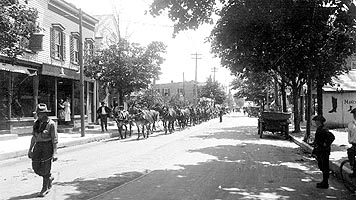 Twenty-mule team in Mineola, New York.

Photograph supplied by John Hyslop (Assistant Division Manager of the Long Island Division of the Queens Borough Public Library, April 2005).

Photos and maps courtesy of Stephanie Morgan

Tex Ewell on the jerk line.


20 Mule Team (1940)
Wallace Berry


20 Mule Team Movie
L to R: Anne Baxter (Joan Johnson), Noah Beery. Jr. (Mitch), Oscar O'Shea (Train Conductor)


Full Scale 20 Mule Team Model at the Pacific Coast Borax Company in Boron, California.



20 Mule Team Movie
L to R: Wallace Beery (Skinner Bill Bragg), Leo Carrillo (Piute Pete)



Pacific Coast Borax Advertisement


20 Mule Team
by Adrienne Quinn
[copyright Adrienne Quinn,
Feminine Mystique Art Gallery]




20 Mule Team Hauling Borax from Death Valley, California





Ronald Regan, episode start and host of "Death Valley Days"

Ronald Regan, host of "Death Valley Days"



Death Valley Days TV Advertisement
(Ebay posting)




Death Valley Days TV Advertisement
(Ebay posting)


20 Mule Team in Advertising
(Offerings gleaned off of ebay)

Advertisement circa 1923




Advertisement 1922




20 Mule Team Borax Advertisement




20 Mule Team Borax Advertisement

Darlene Fields - Death Valley Days Star




Advertisement 1923

Ricardo Montalban - Death Valley Days Star

20 Mule Team - A Good Laundress Advertisement - 1906

20 Mule Team Kits Are Available
This is just to let you know that the 20 Mule Team Model Kits are available.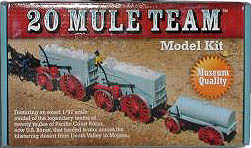 The kits are available on-line at: Ebay

It is great to see that these models are still available.

The Pigmy Packer
September 2019


Colemanite



Colemanite (Ca2B6O11·5H2O)or (CaB3O4(OH)3·H2O)is a borate mineral found in evaporite deposits of alkaline lacustrine environments. Colemanite is a secondary mineral that forms by alteration of borax and ulexite.

It was first described in 1884 for an occurrence near Furnace Creek in Death Valley and was named after William Tell Coleman (1824–1893), owner of the mine "Harmony Borax Works" where it was first found. At the time, Coleman had alternatively proposed the name "smithite" instead after his business associate Francis Marion Smith.

Colemanite chemical structure: CaB2O4(OH)3•H2O




(Ebay posting)

OLD BORAX ROADS OF THE MOJAVE
20 Mule Team Route



Dotted Line: Ed Stiles' route hauling first borax from Eagle Works to Daggett.

Long Dashes: Route old timers say was used from Harmony and Amargosa before opening of Mojave road.

Solid Line: Famed 1883-1888 Death Valley - Mojave route of the twenty mule teams.

Short Dashes: Routes followed from middle '70s from Searles borax works.

20 Mule Team out on the Mojave desert