MANZANAR RINGO-EN
Manzanar Barracks
Manzanar Barracks photo courtesy of
Vic Cooper
, Copyright Vic Cooper
All Manzanar photographs from the Ansel Adams Library of Congress Archives unless otherwise noted.
Text excerpts from "Manzanar" by John Armor and Peter Wright"
Japanese Americans: 99 Nen no Ai
This is the story of a family of Japanese immigrants who crossed over to America 99 years ago, their strugges in America pre-, during, and post WWII. It is the story of 1st, 2nd, and 3rd generation Japanese Americans from both the American and Japanese perspectives. This is a story every American should see.

Portraits of Manzanar

Aiko Hamaguchi


Frank Horosawa


Catherine Yamaguchi


Youth Choir Practice


Kay Kageyama

THE NISEI

Who were the people brought to Manzanar at gunpoint?

They shared only one common characteristic: "a Japanese ancestor in any degree."

Two-thirds were first-generation American citizens. They lived in American cities, attended American schools, and thought of themselves as Americans. That belief was sorely tested when, by order of President Roosevelt -- an order carried out by General John L. DeWitt, West Coast Commander, and his subordinates -- they were removed from their homes, schools, and businesses, and brought to Manzanar and nine other camps like it. The first-generation Japanese Americans were called, in Japanese, Nisei.

A few were second-generation Americans, called Sansei. Neither they nor their parents had ever known any other life than their life in the United States.

Almost a third of the prisoners were Japanese citizens, resident aliens by definition of the U.S. immigration law. They were called Issei. All of this group had lived in the United States at least eighteen years, since American borders were closed to Japanese immigrants in 1924. All had been specifically barred from applying for American citizenship. The right to become an American citizen was not allowed to the Japanese until 1952, when quotas were introduced.

Because the Issei would have become American citizens, given the opportunity, the Issei and the Sansei are sometimes described generically as Nikkei.




Louise Nakamura


Frank Hirosama


Describing Manzanar and the others as "concentration camps" conjures horrible images of the ovens of Dachau under the Nazis, or the Soviet Gulag in Siberia. As bad as they were, the American concentration camps never approached the horrifying conditions of the camps in Europe. There were no gas chambers or medical "experiments" at Manzanar or the other American camps. There were no attempts to work prisoners to death.

In fact, the food and the medical care at Manzanar were better than adequate, in large measure because the Nisei were given the opportunity to provide for themselves.

There was one other difference separating the American concentration camps from the European camps. In most instances, families were kept together. The Nisei prized the institution of the family. It may be this difference, more than all others that allowed them to survive and prosper under very difficult circumstances.








Manzanar
By Tom Russell
(Sung by Tom Paxton)

He said, My name is Nakashimau
I am a proud American.
I came here in '27,
From my homeland of Japan.
And I picked your grapes and oranges,
Saved some money, bought a store.
Until 1942,
Pearl Harbor, and the War.

Came the relocation orders,
They took our house, the store, the car,
And they drove us through the desert,
To a place called Manzanar.
A Spanish word for apple orchards,
Though we saw no apple trees.
Just the rows of prison barracks,
With the barbed wire boundaries.

Chorus:

And we dream of apple blossoms
Waving free beneath the stars,
Till we wake up in the desert,
The prisoners of Manzanar,
Manzanar.

Fifty years have all but vanished,
And now I am an old man.
But I don't regret the day
That I came here from Japan.
But on moonless winter nights,
I often wish upon a star,
That I'd forget the shame and sorrow,
That I felt at Manzanar.

Chorus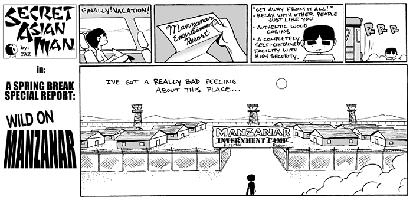 Secret Asian Man Manzanar Cartoon by Tak Toyoshima
[copyright Tak Toyoshima]


Manzanar Relocation Office


Manzanar "Reception" Center




| | |
| --- | --- |
| | |
| Luggage Trunk | Japanese Lantern |


Internment Camp Paintings by Internees


Akio Ujihara Painting


Akio Ujihara Painting


Akio Ujihara Painting


Barracks Nameplate


Kango Takamura Painting


Kango Takamura Painting

Japanese American Citizen's Short-Term Leave Authorizatiion




Manzanar Images courtesy of Rich McCutchan

| | | |
| --- | --- | --- |
| | Ghosts of the Past 2 - Owens Valley Aqueduct & Cottonwood Sawmill | |
| | Ghosts of the Past 3 - Bruce Morgan's '49ers | |
| | 20-Mule-Team History | |
| | More Manzanar Japanese Internment Camp History | |
| | Manzanar High School Portraits & History | |
| | More Manzanar History & Manzanar Free Press | |


Sign Guestbook

View Old Guest Book Entries
Oct 1999 - Feb 2015 (MS Word)



CONTACT the Pigmy Packer



View Guestbook

View Old Guest Book Entries
Oct 1999 - Feb 2015 (PDF)

This page was last updated on 12 October 2018