| | |
| --- | --- |
| | Early Mt. Whitney Pack Trains |

Many thanks to Rena Beth Moore-Smith, who so graciously shared these photos from her mother's old scrapbook of the early days of Mt. Whitney Pack Trains (MWPT). This goes back to the days when the outfit was headed up by
Frank Chrysler and Ted Cook .

See USE NOTICE on Home Page.

| | |
| --- | --- |
| Mt. Whitney Pack Train's packer, Slim, circa 1941 | Ted Cook at the old Carroll Creek MWPT Pack Station, 1941. |

Ben "Mike" Baker (Packer with MWPT during the 1950s) writes.
Ray,

We didnt meet but I know many of the others on your site. What a lot of work you have put in, NICE JOB!

The JF brand you show stood for James Frankin Chrysler one of the first owners with Ted Cook and my cowboy mentor since childhood. His nephews Jack Fitzpatrick (Alaska) and Jerry Whortan (Idaho) are still out fishing for different fish. We all spent many summers with Frank at Little Whitney. When I got older and found out the Sierra Club trips had girls along to clean the pots, I went to Mt. Whitney pack trains for a job and worked there in the mid 1950s. Along with part time work for the Laceys and George Brown outfits. I know I was there in 1956 because I had just gotten my drivers license and came into the Portals from a trip and Bruce asked me if I could "double clutch". I said I could and he put me in the green chevy stock truck to take Grace to town.

I needed to "double clutch" because the brakes were out and I think we went almost all the way to Lone Pine in low gear.

I have pictures of Frank Chrysler and others if you have any interest. I just sent Richard the original photo of the big dinner we had in Las Vegas after arriving there with the mule team in about 1949 but still have it on file. Along with Bruce & Grace there were Russ Spainhower and more. Also, sent Roberta the program from the 1956 stampede when she was queen.

Those were good days. I'd like to hear from you if you would like some some old stuff from the Owens Valley. I was born there in 1940 and my mom was a packrat.

Frank Chrysler was truly one of a kind. I particularily remember when as a little kid we were taking cattle to volcano meadow and as entertainment once in a while he would rope a calf and we kids would jump off our horses and ride it.

One calf took off in a circle and tied me to a pine tree and he said that I bellowed louder than the calf. I'm going to carbon copy this to his nephew Jack Fitzpatrick in Anchorage and he may also be of assistance to you on Frank although I don't believe he worked for MWPT. I already sent a link to your site to Jack today and he may have seen it already. If he hasn't he doubtlessly will and he and his cousin Jerry Whorton may have additional stories on Frank.

One of my favorite campfire stories Frank told was when he was with the 20 mule team as a young man in Death Valley when Haleys comet came over and everything was lit up like day. The year was (according to Google" about 1910.

I'll give this some more thought and get back to you with some pictures and stories. Great that someone has put all this history together.

I'll try and find one picture that I thought was really special of Chrysler, Harold "Skinny" Gates and my dad, Ben Baker Sr. at a campfire. In those old days I was called "Mike" so if you mention me as a packer it should probably be Ben "Mike" Baker, Jr. I worked as "Packer" in the mid 1950s but like most others was also guide, wrangler, cook, horseshoer and fishing instructor. Also even worked the Portals Store with Roberta and Richard a couple times.

Ben "Mike" Baker

Ray,

My name is "Rena 'Beth' Moore-Smith. I am the last of my immediate, Fred Arthur Moore family. My dad, Fred Moore, was born in the small town of Black Rock, just out of Independence in Inyo County, CA on March 29th in 1896. His father was Walter Browning Moore and mother was Mary Coreen (Whittle) Moore. Both are buried there in the Lone Pine cemetery. I heard that Dad was related to a Wm. L. Moore and a James J. Moore (I believe of Independence/Lone Pine.) and both in the early years were sheriffs of Inyo County.

I just returned home on October 23rd from a trip to Independence, Lone Pine, and Keeler. I am in the process, and with some helpful connections, trying to learn more about this past history. I know there are some Moore cousins living in the Inyo area that I have never met. My dad had a brother, Walter Irving Moore, and Floyd Moore that later settled in the Bishop area, a sister, Julia R. (Moore) Lasky, in Lone Pine and several step-sisters, Amy & Grace Whittle.

After meeting and marrying my mother, Rena (Roop)Moore, in 1920, my Mom and Dad (Fred) moved to Independence and lived in the Mary Austin house from 1920 through 1921 until they eventually moved to Lone Pine. I am their only daughter along with the five sons they had - Fred, Lynwood, Bob, George, and Willis. All of my brothers have passed away. Lyn and George are buried in the Lone Pine cemetery. Over the years we have lived in Lone Pine, Bartlett, and later on a farm in Torrance, CA. Every summer, from June through September, our home was Whitney Portals! That is because Dad worked for Mt. Whitney Pack Station which was owned by Frank Chrysler and Ted Cook. I'm not real sure just when this all started, but I do know I have pictures and information in the 1930s and 1940s from my mother's old scrapbook. As I grew up I got to know every inch of the Portals' area. My "rock" was the large "Wishing Rock" on the small lake across from the Portals' cabin which we stayed in off and on. Most of the time we stayed in a large tent which was set up for our summer stay.

In later years my Dad married a second time. And, believe it or not, Grace A. Moore, at 101.5 years old, is still one of the few residents still living in the town of Keeler!!. She is quite a remarkable person whom most everyone in the area knows. Dad passed away in January 1979.

I still know some of the Lone Pine residents from days gone by and it always feels like home to me whenever I get a chance to visit. I love it there.

My son, Tony, came across your website and sent it on to me. It is so interesting! I spent time on early visits to Carroll Creek and Cottonwood, the Alabama Hills, where we also had a home for a while. I've been most everywhere. I also knew the older brothers and sisters of Deborah Cook who wrote to your site. Her father, also a Fred, Fred Cook, younger brother of Ted Cook, worked for the Mt. Whitney Pack Station along with my dad. I knew her mother Ruth, brother Mike, and sister Margaret Rena, named after her aunt, Ted's wife Margaret and my mother Rena.

My older brother, Lynwood, used to care for Father Crowley's yard in the Portals.

Sincerely,
Rena 'Beth' Moore-Smith

25 October 2003


Ted Cook and the little Atwater girl at Anton's Camp in the 1930s


Mr. Cook (Ted Cook's father) in one of the boats that Ted made.


Bonnie, Doreen, and Lyn Moore in front of Fr. John J. Crowley's cabin at Whitney Portals


Mt. Whitney Pack Train's packer, Johnny, circa 1940.


Death Valley '49ers

- Fred A. Moore on the front wagon.





Fred Moore packing up for the outfit in Lone Pine in the early 1940s.


Charles Morgan's wife, Mary Morgan, with their son David at Whitney Portals in the early 1956 [per Mary].

Rena Elizabeth Moore and Frederick Arthur Moore in Los Angeles in 1920.


Rena and Frederick's children at Whitney Portals in 1956.
(L-R): Bob, Beth, Freddie, and Lynwood



Hi Ray,

Just got your email with the new stuff and saw some things that hit home. I just looked at the pix of the Owens Valley Cowboys of 1951. Boy, you have some of my relatives everywhere. One of your photos has my Uncle Wendell Gill. His son, Gabe (who later in life moved in with me in San Diego until he could find a house to move into, is also in the pix. Wendell married one of Pete and Leaky Olivas' sister, Carrie. I also saw Uncle Wendell in a couple of the pix at Carrol Creek where they were loading the mule who was bucking away.



Of course Pete and Leaky were my Grandmother's brothers. She was in an old movie I have been trying to track, but difficult as she would never tell me the name, she always believed in doing your own research. She replace Spainhower's daughter who wanted to be the one to drive a runaway buckboard down Tuttle Creek Rd but her Dad didn't think she could handle it so my Grandmother did the shoot. All the Olivas family could ride, rope and drive wagons, etc.





As you know the families are all mixed. You posted pix of Bill Carasco, also an inlaw relative with Bob White. Thanks so much as these people I only saw when they were older. Back in the late 1950's I flew out of Monache with Bob White...it was quite the trip flying with a bush pilot.



As for the Elder Corral, can't count the times I was there....The Elder family is also related to the Olivas'...see what I mean. Carmen Olivas...who came over from Mexico and packed to the mines, married Petra Diaz who was the daughter of Andrea Contreras who married an Elder.

You have a pix of the Lone Pine Saloon way back when. Looking closer I see that my Great Grandfather's brother is there...Frank Olivas.

I loved all the pix of Little Lake. When we lived in Ridgecrest we would always stop there on the way home from Lone Pine every week. To see that area now just about breaks my heart

Next time I can find them I have one or two pix of lunch on the Hoppy set. My Great Aunt, Del Olivas drove the chuck wagon to the movie sets and we would go with her when we could. In the pix I have they were celebrating 100 shows or something like that, I'll be sure to keep my open for it.

My Uncle wrote down the story of when he and Gabe Gill (Wendell's son) rode to Mt. Whitney, I have it on a website of mine but here is the link, sorry but too lazy to retype it.... home.earthlink.net/~leilauni/id2.html

Leilauni Holtz
March 2016



Golden Trout Season
by E. J. Fortman - 1930s
(Article courtesy of Rena Beth Smith)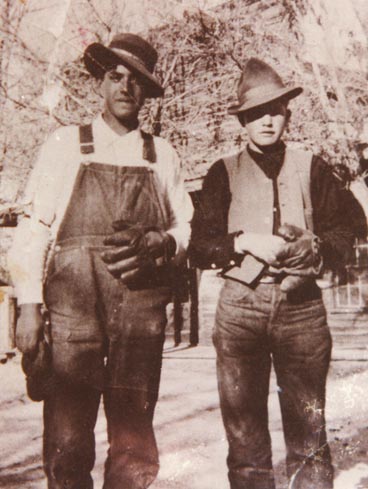 L to R: Reyes Carrasco and Fred Moore - circa 1917-1918


Edgar H. (Ted) Cook - Owner and Operator, along with Frank Chrysler,

of Mt. Whitney Pack Trains out of Carroll Creek.

1894 - 1934

(Photo courtesy of Deborah Cook)

Frank Chrysler Obituary - 1973

(Article courtesy of Rena Beth Smith-Moore)

Doris the mule

Whitney Portal and pond - 1930s - 1940s

Darwin Days 1968