Little Lake, CA



Little Lake Facebook Page



Little Lake Hotel
(Photo courtesy of Burl Baxter Matheny)



Ray,

The above, famous stone-faced hotel was the centerpiece and largest structure of the hamlet of Little Lake which once was on U.S. Highway 395 at the entrance to California's Owens Valley. In earliest days the site was known as Pinto Village. Greater development and even a railroad was soon occurring in answer to construction of the Los Angeles Aqueduct nearby, and the post office of Narka (later to be Little Lake Post Office, named after the nearby body of water) was established July 17, 1909. Then the William Bramlette family purchased the property in 1914 and it is unclear if the first Little Lake Hotel, a single-story wooden structure, was already existing. The second hotel, the one we know, was begun by Bramlette in 1919 and completed in 1923.

Years passed. After World War II, Bramlette decided to divest himself of Little Lake Hotel. His first buyer about 1952 is not known. Then in 1954 my parents Burl Sr. and Isabel Matheny, living in Hollywood CA, saw an ad in the newspaper again offering Little Lake Hotel, this time with attached café. And as of July 29, 1954, we were its new owners. We would occupy it from then to about the middle of 1958.

As shown by Bramlette's divestiture of it and the first buyer's not remaining very long, Little Lake Hotel and Café was in decline. Then my parents brought it its real glory, developing the business amazingly. Customers praised us. We paid Merle Porter of Royal Pictures, Colton CA, to produce the first-ever color postcard--the picture above. We revitalized the hotel, installed the neon sign out front, built the swimming pool, added the souvenir shop.

My parents and my sister Charlotte (all deceased now) and I loved Little Lake so much we considered it to have defined us as a family! After news of the coming highway diversion, business sense led us to sell. But we never regained what we'd lost, nor were we ever able to forget. When we moved away it again settled into decline. Charlotte cried when passing Little Lake years later, on seeing what had happened to it. And I have been homesick for it my whole life, devastated by its reduction to ghosttown then destruction.

Today I collect photos and mementos of those happiest times we ever knew.

Burl Baxter Matheny
August 2016


Mindful that our worthy administrator has asked for pictures of Little Lake Cafe, and always out looking for never-seen views of the best home I ever knew, I have come running back now all excited because of having found this winter scene of the northeast side of our Hotel and Cafe! Of all the shots I have seen, the NE side seemed never to have been photographed. I was thrown by the old-fashioned lettering on the sign--until I studied the vehicles in the backyard and realized the sign was on this side to make it visible to passersby on the new highway diversion. So this is an early- to mid-1960s view. The part of the hotel behind the sign is a room off the back of our cafe that held supplies and the walk-in freezer. All credit to Linda Croonenberghs Jahraus who first posted this in 2014 in Ghosttowns Yesterday & Today.

( Photo and text courtesy of Burl Baxter Matheny)


"Little Lake's Big Fun"

by Dorothy Robinson

Richard Hill writes.
Ray,

I happened on to your website and just thought I would tell you I enjoyed it very much. I was very fortunate to have spent a good deal of time with Wales William (Buster) and Ma Belle Bramlette when they lived in Benton Hot Springs. Good times and a lot of great stories including one that Buster told me about peple pulling into the gas station in Little Lake in their Model A's with the windshield opened for extra air flow in the summer. They would be getting fuel and every once and awhile someone inside would light a cigarette in the Model A, ending up in a quick flash of fumes (The fuel tank was just in front of the windshield).

Other stories about his Dad always feeding the quail and there were hundreds I guess, a tradition Buster continued in Benton Hot Springs. He also told me there was a huge rock where U.S. 395 is today that had all the names of the original group that explored the area for the first time. A General who's name escapes me right now and his group. The same one that named all the towns "Benton" after his father-in-law and he said the rock was "dynamited" to put the road in unfortunately.

Aother story was Buster and his brother Tom putting all the old tires they could get into the red cinder cone and setting them on fire one fourth of July "when the traffic was heavy." He added that if his Dad would have caught him he would have tanned his hide. He said the sheriff from Lone Pine even drove down to check it out. LOL

Both Buster and Ma Belle told me about Death Valley Scotty coming in to Little Lake to visit William Wales, Buster's Dad. Then there was the time when his uncle, or grandfather, took a walk after dinner one night up the canyon and fell down. He spent the entire night out there before anyone missed him and it was cold I guess. Buster asked him how he stayed warm that night and he replied, "I shivered."

Anyway thanks for the good memories and great photos.

Richard Hill
November 2018



Betty Lou Ratzloff writes.
Ray,

I can't begin to tell you how much I enjoyed your www.owensvalleyhistory.com where I located so many pictures and history of Little Lake. I was 16 when I got my first job, for the summer, as maid at the hotel. It was quite an experience for me, and I kept no pictures. My first memory was when the proprietress interviewed my Mom and I. She asked Mom if 75 was a good wage. I was thrilled, thinking it was $75.00 a month, a lot more that babysitting money. So disappointed to find it was only 75 cents per hour. She was good to me, had to train me in so many things. I had room and board of course, and shared double bed with friend from Independence who was working as waitress at the cafe. There were also two boys from Independence, where we all lived, who worked at the station. I would catch the bus very early in the morning on Friday, and stay there till next Wednesday afternoon, when I would catch a ride home with a beer truck for my day off, Thursday. Once I overslept and Mom had to all the DWPLA that she would be late for work, had to take me to Little Lake, must have been 100 miles. Bramlettes were good to us, picked us up in little boat, rowed us over to their house to swim in the pool. We also got to sit in on an archaeology site nearby once, actually uncovering relics of an old Indian camping site. I remember Arlyne especially.

I too was devastated when I discovered no remains of the hotel, and every year drive by there and become sad again.

My only story would be the time I came home after dark from swimming up the mountain at a DWP station, and decided to come in through the back door, where lo and behold I met the two boys sitting and waiting for something to happen. So I was warned. I went into my room, and when I started to climb into bed, I discovered a very large dead snake in my bed. That was what they were waiting for, me to scream bloody murder. Well, having been aware something was afoot, they were disappointed, when I just threw it out, and climbed in. Carol DeDecker was the culprit, she was always climbing about the mountain, looking for things to discover. She was going to skin it and keep it.

Betty Lou (Evans) Ratzloff
August 20, 2019


01/23


Heila Martin-Person writes.

Ray,

I had the pleasure of working at the Little Lake Lodge as a bookkeepeer around 1988-1989. I believe it was owned at the time by California Energy. After I moved back to the Midwest and East, I heard that it went down in a fire. I loved that place. The manager at the time was Serge Roberts. I was the full charge bookkeeper and his assistant. I would take the gas reading inventories, do all the sales reports, assisted the innkeeper, jumped in helping in the restaurant during a rush, created a new kitchen inventory because the chef wasn't able to. They had the bar in the afternoon and evenings and most of the rooms were filled with construction workers who were working on a project down the road. I remember staying in one of the rooms a few days when I had a fight with my husband, ha ha! In the tinest room they have. I just loved being there, working there and the people I worked with. I feel sad that the building burned down.
I'm going to take more time and really study your website. It's a very great tribute to a little piece of American history.

Thank you. I love your history and photographs.
Heila Martin-Person
January 10, 2023






Little Lake photo courtesy of Burl Baxter Matheny

(Eastern California Museum photo)
Little Lake photos courtesy of Burl Baxter Matheny

Charlotte Matheny in front of her Little Lake gift shop.

This is a rare Polaroid picture made by my mother about 1956, of my sister Charlotte in her souvenir/jewelry shop then in the front of Little Lake Cafe. The door to the cafe is immediately out of view to right. On opening, the shop was in the little red concrete building next door that we had put Little Lake's bell on top of, that formerly was the post office. We soon moved the shop into the cafe where it did better. Charlotte died in 1976. .
| | |
| --- | --- |
| I have many views of this structure which was built in 1916, but the best I have seen is "Extra westbound 2751 with train arrives at Little Lake on September 18, 1948"--below--a Francis E. Lionberger photo that is on page 60 of the book Jawbone: Sunset on the Lone Pine, by Phil Serpico. That's a nice view of our beloved hotel at left, but those trees in our parking area didn't have long to live. And 395 had by then become a full-fledged highway as you can tell from the passing truck. The train shelter had been torn down by the time my family, the Mathenys, arrived in 1954. So too, had the old steam locomotives disappeared from the railroad. | |
| | |
| | |


Little Lake Brochures courtesy of Randy Tolle unless otherwise noted.




Ben Baker of Oro Valley, AZ writes
Ray,

When I saw the info on Little Lake on your site I started to remember something. I did go to Lone Pine high with the Bramlett kids, stopped by on travels for pie and coffee and gassed up at the Standard/Chevron station with "Sully." I Knew of the guys that would sneak up on the ponds during duck season, etc. BUT, the interesting thing to me about the place is that where the road cut through the lava beds to the Owens Valley is where the local guys had set up to defend the valley when it was anticipated that the Japanese would attack the pacific coast. If you look around out there you will see perfect defensive positions in the lava. My dad (Ben Baker, Sr) who was there at the time showed me some when I was a youngster.

Later when I was flying I enjoyed looking at it from the air. If you get a chance, do it. There was no way the enemy could have gotten their mechanized stuff like trucks and tanks into the valley except through that cut in the lava where 395 still runs.

The valley boys were ready for the Japanese with their deer rifles and dynamite. I thought the info was worthy of passing on before everyone forgets. I just looked on Google Earth and it's plain to see.

Best to ya,
Ben

Frasher Photo Card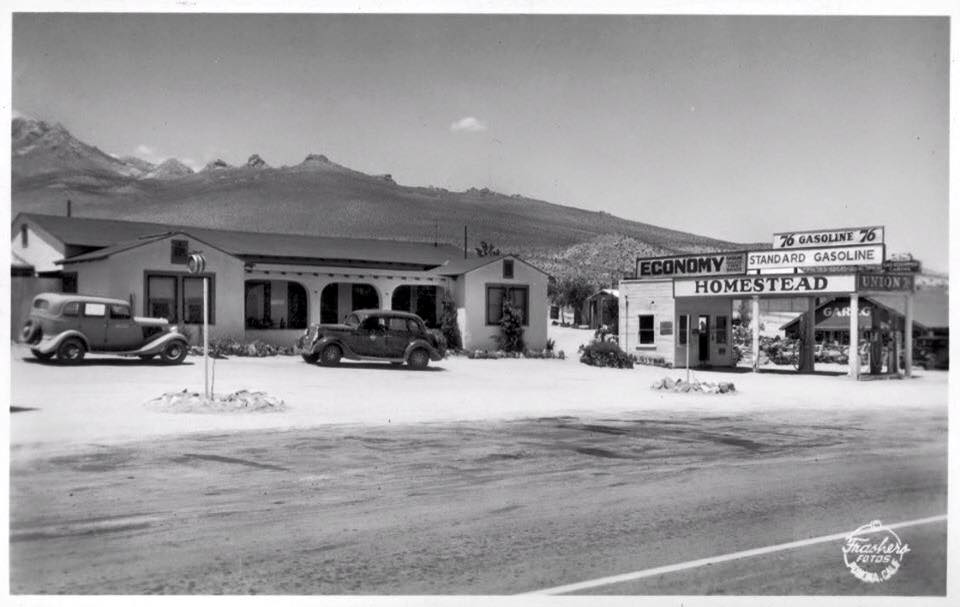 Homestead service station and motel. Homestead is now known as Indian Wells in Kern County and is 17 miles south of Little Lake and 8 miles south of Pearsonville.

Little Lake Fotocards Courtesy of Bob Pilatos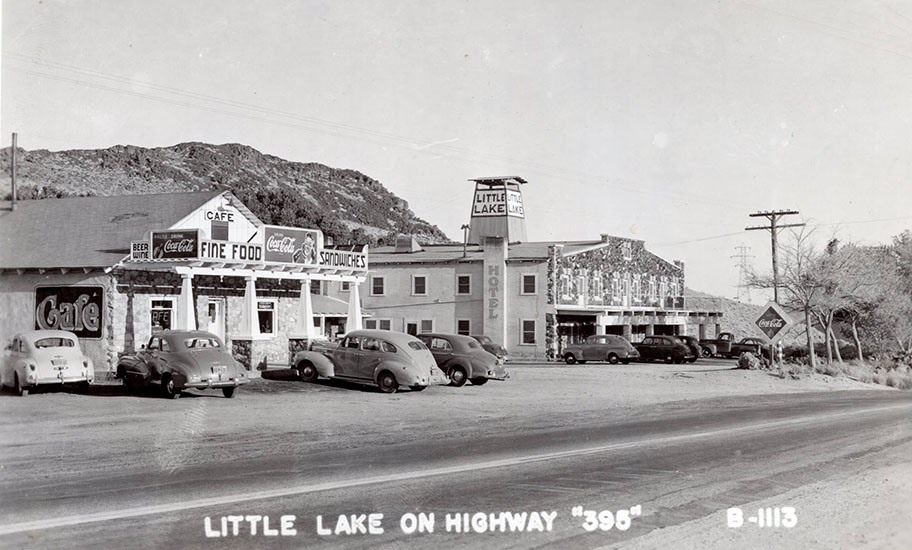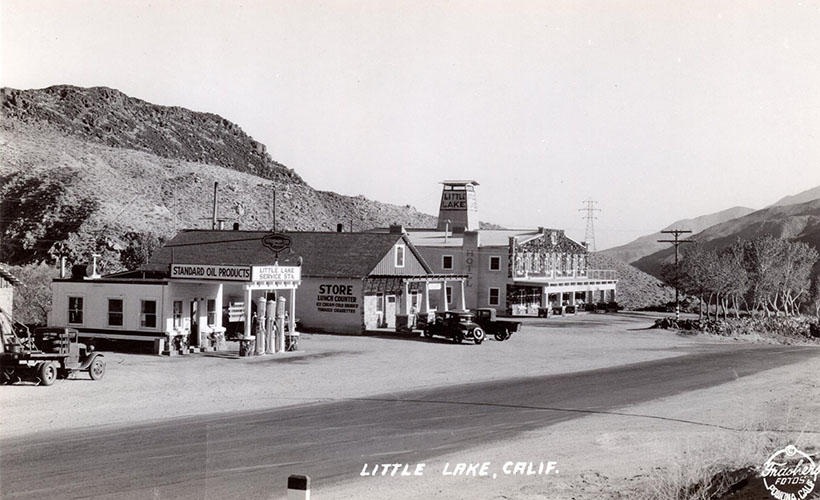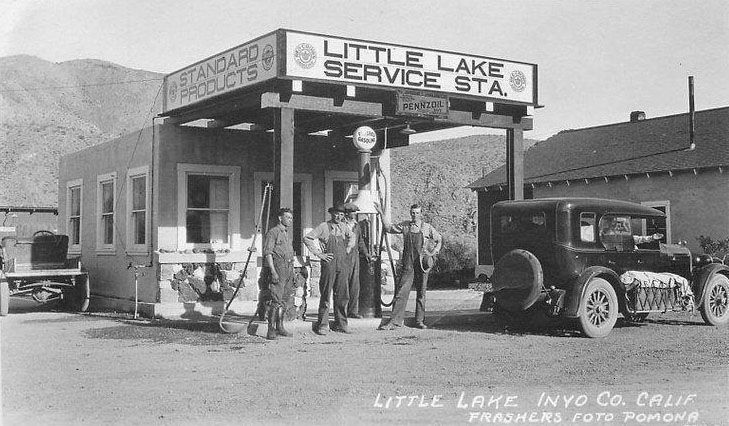 Fotocards courtesy of the Rich McCutchan Archives

Little Lake Lodge key discovered by Gail Klett while doing fall cleaning at her home. 2015

(Courtesy of Gail Klett)

Little Lake Photos Courtesy of Susan Stanton

Southern Pacific RR stopped at Little Lake

Southern Pacific RR stopped at Little Lake
A busy day at Little Lake

Little Lake Posters Courtesy of James Johnson

Little Lake Photos Courtesy of Jeff Harris


Sullivan's Chevron Station

Little Lake Hotel after the July 1992 fire - Photo taken from the east side of the hotel which faced the re-routed U.S. 395 (the old El Camino Sierra / Midland Trail)

04/22

The rear and front of the Little Lake Hotel after the fire and before it was torn down.
(Photos courtesy Robin Ray archives).

Little Lake Photos Courtesy of Anthony Vickie Frederick
[Earl "Sully" Sullivan and June Sullivan - Owners of the Chevron Station in Little Lake]

Burl Baxter Matheny comments:

Earl and June Sullivan were running strictly a gas station at the Chevon in 1954 when my parents Burl and Isabel Matheny acquired Little Lake Hotel and Café. Sully's then establishing or resuming a snack bar in competition with our café soon created hard feelings between our families. When we saw his signs offering food, my father walked over and informed him that if he didn't stop we would be installing gas pumps in front of Little Lake Café! I am glad to say Sully acquiesced. But it is interesting to learn that he went ahead and did it after we moved away in 1958.

September 2016

Little Lake and Rose Valley photos from "Men, Medicine & Water" by friends of the LACMA Library
Photos were taken by Raymond G. Taylor, M.D. on the occasion of the construction of the Los Angeles Aqueduct


The Little Lake (Zig - Zag) Post Office
The following photos and text were taken from "The Zig Zag Post Office and Its Neighbors" by Jane A. Thomann

Narka / Little Lake Postmasters

POSTMASTER

DATE OF APPOINTMENT

Charles H. RIchards
Riley N. Hart
William W. Bramlette
Mrs. Nina Reid
Miss Clara L. Linin
Mrs. Hazel G. Bramlette
Mrs. Pauline Harris
Mrs. Ann Pherson
Mrs. Ann E. (Person) Fjeld
Mrs. Jane A. Thomann

July 17, 1909
June 13, 1913
April 14, 1916
January 13, 1936
November 6, 1938
May 20, 1943
December 15, 1952
March 7, 1958
November 24, 1969
August 22, 1970

The Building of Many Uses
(the Little Lake Zig-Zag Post Office) by Jane A. Thomann

The Midland Trail across the United States - circa 1915. The Midland Trail by Jane A. Thomann

William and Elvira Bramlette pictured with Wales and Elizabeth in 1908. The William W. Bramlette Family by Jane A. Thomann

An Auto Club of Sothern California Midland Trail sign.

Rose Valley
by Jane A. Thomann

Coso Hot Springs
by Jane A. Thomann

Construction of the Los Angeles Aqueduct in the Vacinity of Little Lake
by Jane A. Thomann

Horace Percy Thelan
by Jane A. Thomann

Little Lake Hotel Burns Down - July 1992
by Martin Forstenzer

Little Lake Photos Courtesy of Gary B. Speck

Fotocards courtesy of the Rich McCutchan Archives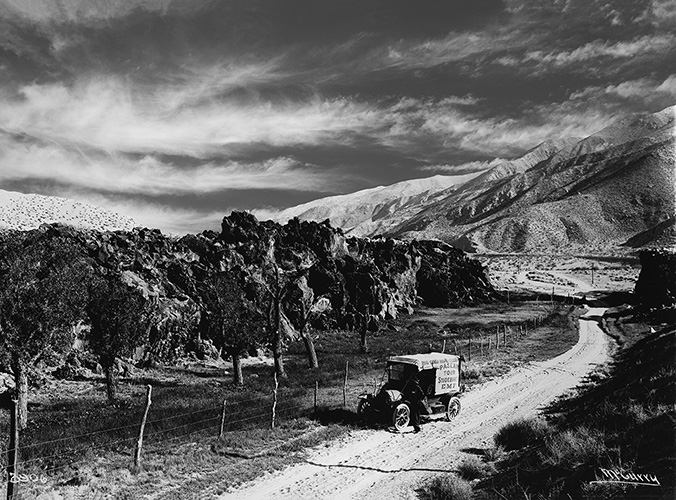 Little Lake, CA - 1912

(close-up of the Studebaker)


A word about the Pasear Tour - Inyo Good Roads Club
This collection consists of the photographs taken of the 1912 California Pasear Tour by the McCurry Foto Company of Sacramento. The Pasear Tour was organized as part of the 1915 Panama Pacific International Exposition. Anticipating the completion of the Panama Canal in 1914, in 1911 the United States Congress decided the best way to celebrate would be to hold a world fair, and designated San Francisco as the host city for this exposition. There was an immediate flood of inquiries from all over the country, as to how to best see California by motor car. The Inyo County Good Roads Club proposed that a statewide tourist route be mapped, called the Pasear Tour, that would "present to the tourist the sublimity of the ocean, the desolation of the desert, the grandeur of the Sierras, and the fertility of the valleys." The route would cover three of the principal roads: El Camino Real (San Francisco to San Diego); El Camino Sierra (Los Angeles to Lake Tahoe); and El Camino Capital (Lake Tahoe to San Francisco). The Inyo proposal received support and sponsorship from the American Automobile Association, California Governor Hiram Johnson, the Studebaker Corporation and the California Highway Commission, among others. Maps were produced and the inaugural tour took place in 1912. The motorists consisted of Inyo Good Roads Club members, sponsor representatives and newspaper correspondents. The McCurry Foto Company went along with the caravan of Studebaker E-M-F automobiles and documented the journey in photographs. The tourists embarked from the Palace Hotel in San Francisco on June 10, 1912 and followed El Camino Real south (roughly current US 101/Interstate 5 routes) through Los Angeles to San Diego/Tijuana and then back to Los Angeles. The caravan then took the El Camino Sierra route (now roughly Highways 99 and 395), through the desert country and north up the eastern side of the Sierra Nevada to Lake Tahoe. The tour then pursued the El Camino Capital route (now US 50/Interstate 80), completing the 2,000 mile loop at the Palace Hotel on July 9, 1912.


Further Reading on the Little Lake area


The Zig Zag Post Office and Its Neighbors by Jane A. Thomann (1996)



The Zig Zag Post Office is available through the Maturango Museum Bookstore


Fotocards and photgraphs courtesy of the Rich McCutchan Archives

Text and photgraphs courtesy of the Raymond Olais


My father worked for the Southern Pacific Railroad back in the early 50's, and as a employee, was granted living quarters in Little Lake, across the road from main street. We lived in the box car pictured. I do not remember living in Little Lake, as I was quite young, but I journeyed back to Little Lake about 8 years ago with my older brother John who has visited Little Lake and Lone Pine over the years, who is pictured in the photos, along with my older sisters, Poppy and Elaine with my mother, Victoria Olais.

I remember a photograph of Mrs. Sullivan, that my mom has in her photo album from those times. My mother is still living, celebrating 100 years this past November in Orosi, CA. She recalls the first year she went there with my father and the family, during the winter, and felt is was so deserted and bleak, but was surprised and delighted when the spring bloom of flowers exploded in beautiful colors throughout the area. We use to have a wonderful collection of Native American arrowheads, of all sizes, shapes that my mom found throughout the years of living there.

Thank you again, as I feel the spirit of Little Lake lives on in these photos.

Raymond Olais - December 2019



I suspect this is Southern Pacific housing for my father's railroad gang while working in the desert at Little Lake, when he was gone for the week. We would always ride out or run out to greet our father when we saw his car coming up the long drive to our railroad house in the Fresno yard every Friday evening. He would leave every Sunday afternoon, back to the desert for another week and then repeat the process over again every week - 1959



Per Richard Powell (May 2020): "There is some history under the reservoir that many don't know about. The remains of the McGuire Way Station are down there. It was attacked by Indians in one of the last events of the Owens Valley Indian Wars that went from 1860 - 1865, with the big spark being the killing of the Paiute leader named Shoandow near Charley Putnam's stone cabin at Independence Creek.

Mary McGuire and her 6 year old son, Johnny, were killed in their home. Mary was found with 14 arrows in her and Johnny with 6. Johnny was found with a rock in his hand. One of the settlers mentioned, "He died grit."

There are no markers for it and only a few mentions in the newspapers of the time. The best retelling of the incident I have found (and one of the most balanced and honest analyses I have seen on the Owens Valley Indian wars) is in Roger a McGrath's book entitled "Gunfighters, Highwaymen and Vigilantes." It's an excellent resource for Bodie, Aurora and early Owens Valley history.


Photo and text courtesy Dina Golley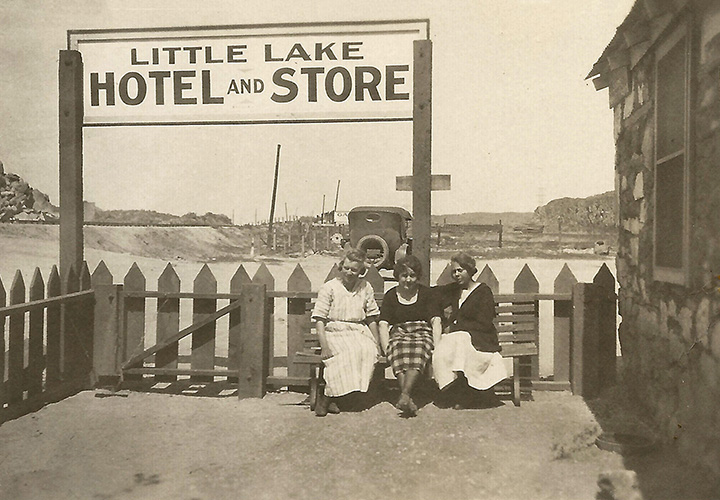 Little Lake circa 1920
L/R: Ottilie Lange, Leona Lohse, Lucille Bramlette
From my grandmother's collection - Leona Lohse O'Neil. Leona and her family moved to Bishop CA around 1940. Ottilie and Leona were cousins and Lucille was Leona's best friend. Lucille married Art Callaway and they moved to Caldwell, ID with their daughter and her husband. I lived in Boise. ID at the time and visited Lucille etc several times.