Little Lake, CA



Little Lake Facebook Page



Little Lake Hotel
(Photo courtesy of Burl Baxter Matheny)



Ray,

The above, famous stone-faced hotel was the centerpiece and largest structure of the hamlet of Little Lake which once was on U.S. Highway 395 at the entrance to California's Owens Valley. In earliest days the site was known as Pinto Village. Greater development and even a railroad was soon occurring in answer to construction of the Los Angeles Aqueduct nearby, and the post office of Narka (later to be Little Lake Post Office, named after the nearby body of water) was established July 17, 1909. Then the William Bramlette family purchased the property in 1914 and it is unclear if the first Little Lake Hotel, a single-story wooden structure, was already existing. The second hotel, the one we know, was begun by Bramlette in 1919 and completed in 1923.

Years passed. After World War II, Bramlette decided to divest himself of Little Lake Hotel. His first buyer about 1952 is not known. Then in 1954 my parents Burl Sr. and Isabel Matheny, living in Hollywood CA, saw an ad in the newspaper again offering Little Lake Hotel, this time with attached café. And as of July 29, 1954, we were its new owners. We would occupy it from then to about the middle of 1958.

As shown by Bramlette's divestiture of it and the first buyer's not remaining very long, Little Lake Hotel and Café was in decline. Then my parents brought it its real glory, developing the business amazingly. Customers praised us. We paid Merle Porter of Royal Pictures, Colton CA, to produce the first-ever color postcard--the picture above. We revitalized the hotel, installed the neon sign out front, built the swimming pool, added the souvenir shop.

My parents and my sister Charlotte (all deceased now) and I loved Little Lake so much we considered it to have defined us as a family! After news of the coming highway diversion, business sense led us to sell. But we never regained what we'd lost, nor were we ever able to forget. When we moved away it again settled into decline. Charlotte cried when passing Little Lake years later, on seeing what had happened to it. And I have been homesick for it my whole life, devastated by its reduction to ghosttown then destruction.

Today I collect photos and mementos of those happiest times we ever knew.

Burl Baxter Matheny
August 2016


Mindful that our worthy administrator has asked for pictures of Little Lake Cafe, and always out looking for never-seen views of the best home I ever knew, I have come running back now all excited because of having found this winter scene of the northeast side of our Hotel and Cafe! Of all the shots I have seen, the NE side seemed never to have been photographed. I was thrown by the old-fashioned lettering on the sign--until I studied the vehicles in the backyard and realized the sign was on this side to make it visible to passersby on the new highway diversion. So this is an early- to mid-1960s view. The part of the hotel behind the sign is a room off the back of our cafe that held supplies and the walk-in freezer. All credit to Linda Croonenberghs Jahraus who first posted this in 2014 in Ghosttowns Yesterday & Today.

( Photo and text courtesy of Burl Baxter Matheny)

"Little Lake's Big Fun"[pdf]

by Dorothy Robinson


Little Lake photo courtesy of Burl Baxter Matheny

(Eastern California Museum photo)
Little Lake photos courtesy of Burl Baxter Matheny

Charlotte Matheny in front of her Little Lake gift shop.

This is a rare Polaroid picture made by my mother about 1956, of my sister Charlotte in her souvenir/jewelry shop then in the front of Little Lake Cafe. The door to the cafe is immediately out of view to right. On opening, the shop was in the little red concrete building next door that we had put Little Lake's bell on top of, that formerly was the post office. We soon moved the shop into the cafe where it did better. Charlotte died in 1976. .

I have many views of this structure which was built in 1916, but the best I have seen is "Extra westbound 2751 with train arrives at Little Lake on September 18, 1948"--below--a Francis E. Lionberger photo that is on page 60 of the book Jawbone: Sunset on the Lone Pine, by Phil Serpico. That's a nice view of our beloved hotel at left, but those trees in our parking area didn't have long to live. And 395 had by then become a full-fledged highway as you can tell from the passing truck. The train shelter had been torn down by the time my family, the Mathenys, arrived in 1954. So too, had the old steam locomotives disappeared from the railroad.


Little Lake Brochures courtesy of Randy Tolle unless otherwise noted.




Ben Baker of Oro Valley, AZ writes
Ray,

When I saw the info on Little Lake on your site I started to remember something. I did go to Lone Pine high with the Bramlett kids, stopped by on travels for pie and coffee and gassed up at the Standard/Chevron station with "Sully." I Knew of the guys that would sneak up on the ponds during duck season, etc. BUT, the interesting thing to me about the place is that where the road cut through the lava beds to the Owens Valley is where the local guys had set up to defend the valley when it was anticipated that the Japanese would attack the pacific coast. If you look around out there you will see perfect defensive positions in the lava. My dad (Ben Baker, Sr) who was there at the time showed me some when I was a youngster.

Later when I was flying I enjoyed looking at it from the air. If you get a chance, do it. There was no way the enemy could have gotten their mechanized stuff like trucks and tanks into the valley except through that cut in the lava where 395 still runs.

The valley boys were ready for the Japanese with their deer rifles and dynamite. I thought the info was worthy of passing on before everyone forgets. I just looked on Google Earth and it's plain to see.

Best to ya,
Ben

Frasher Photo Card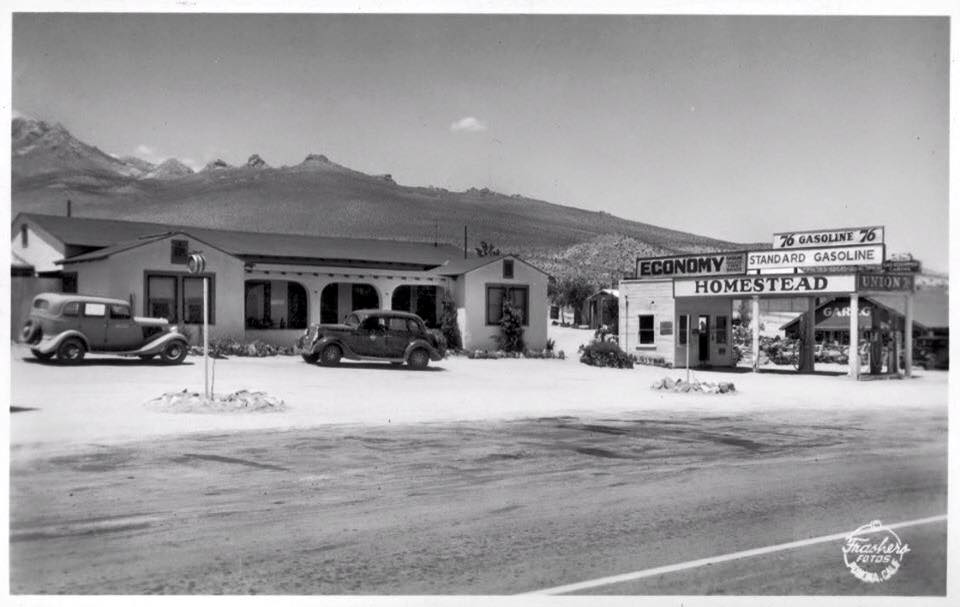 Homestead service station and motel. Homestead is now known as Indian Wells in Kern County and is 17 miles south of Little Lake and 8 miles south of Pearsonville.

Little Lake Fotocards Courtesy of Bob Pilatos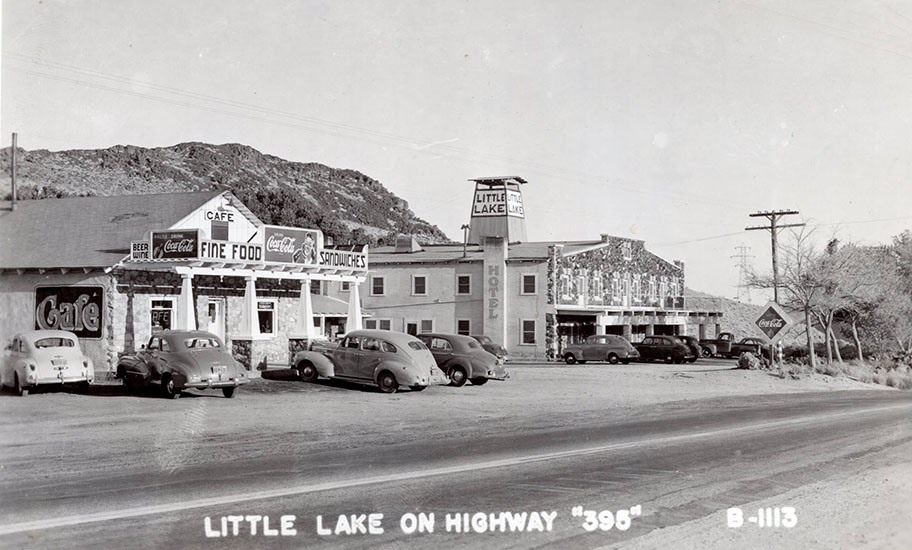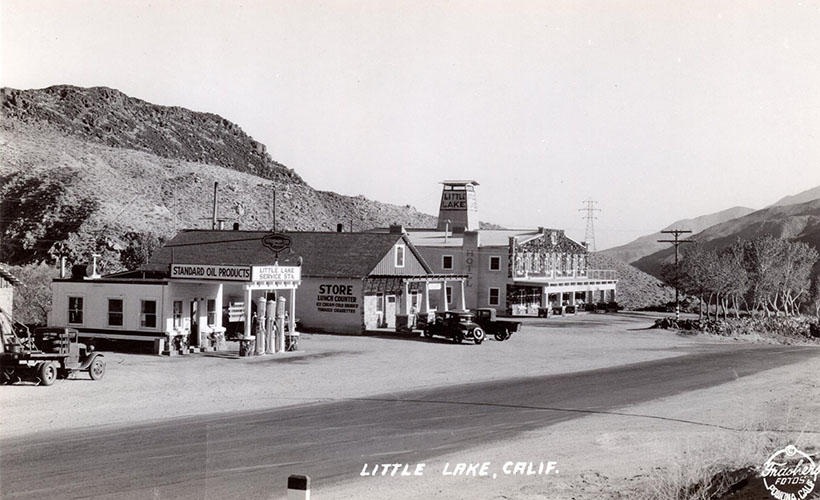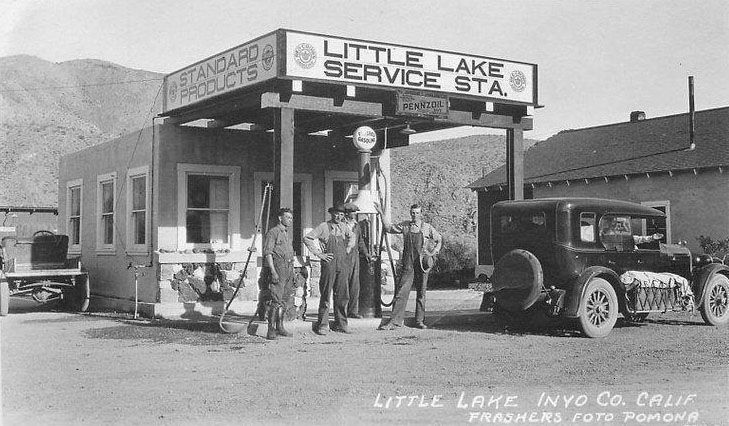 Fotocards courtesy of the Rich McCutchan Archives

Little Lake Lodge key discovered by Gail Klett while doing fall cleaning at her home. 2015

(Courtesy of Gail Klett)

Little Lake Photos Courtesy of Susan Stanton

Southern Pacific RR stopped at Little Lake

Southern Pacific RR stopped at Little Lake
A busy day at Little Lake

Little Lake Posters Courtesy of James Johnson

Little Lake Photos Courtesy of Jeff Harris


Sullivan's Chevron Station

Little Lake Hotel after the July 1989 fire - Photo taken from the east side of the hotel which faced the re-routed U.S. 395 (the old El Camino Sierra / Midland Trail)

Little Lake Photos Courtesy of Anthony Vickie Frederick
[Earl "Sully" Sullivan and June Sullivan - Owners of the Chevron Station in Little Lake]

Burl Baxter Matheny comments:

Earl and June Sullivan were running strictly a gas station at the Chevon in 1954 when my parents Burl and Isabel Matheny acquired Little Lake Hotel and Café. Sully's then establishing or resuming a snack bar in competition with our café soon created hard feelings between our families. When we saw his signs offering food, my father walked over and informed him that if he didn't stop we would be installing gas pumps in front of Little Lake Café! I am glad to say Sully acquiesced. But it is interesting to learn that he went ahead and did it after we moved away in 1958.

September 2016

Little Lake and Rose Valley photos from "Men, Medicine & Water" by friends of the LACMA Library
Photos were taken by Raymond G. Taylor, M.D. on the occasion of the construction of the Los Angeles Aqueduct


The Little Lake (Zig - Zag) Post Office
The following photos and text were taken from "The Zig Zag Post Office and Its Neighbors" by Jane A. Thomann

Narka / Little Lake Postmasters

POSTMASTER

DATE OF APPOINTMENT

Charles H. RIchards
Riley N. Hart
William W. Bramlette
Mrs. Nina Reid
Miss Clara L. Linin
Mrs. Hazel G. Bramlette
Mrs. Pauline Harris
Mrs. Ann Pherson
Mrs. Ann E. (Person) Fjeld
Mrs. Jane A. Thomann

July 17, 1909
June 13, 1913
April 14, 1916
January 13, 1936
November 6, 1938
May 20, 1943
December 15, 1952
March 7, 1958
November 24, 1969
August 22, 1970

The Building of Many Uses
(the Little Lake Zig-Zag Post Office) by Jane A. Thomann

The Midland Trail across the United States - circa 1915. The Midland Trail by Jane A. Thomann

William and Elvira Bramlette pictured with Wales and Elizabeth in 1908. The William W. Bramlette Family by Jane A. Thomann

An Auto Club of Sothern California Midland Trail sign.

Rose Valley
by Jane A. Thomann

Coso Hot Springs
by Jane A. Thomann

Construction of the Los Angeles Aqueduct in the Vacinity of Little Lake
by Jane A. Thomann

Horace Percy Thelan
by Jane A. Thomann

Little Lake Hotel Burns Down - July 1992
by Martin Forstenzer

Little Lake Photos Courtesy of Gary B. Speck


Fotocards courtesy of the Rich McCutchan Archives


Further Reading on the Little Lake area


The Zig Zag Post Office and Its Neighbors by Jane A. Thomann (1996)



The Zig Zag Post Office is available through the Maturango Museum Bookstore