Mt. Whitney and Lone Pine in the early 1900s

All photo cards on this page courtesy of Rich McCutchan archives unless otherwise noted.

See USE NOTICE on Home Page


A Trip to God's Country
by E. J. O'Keefe
(Story provided to me by Irma Cline)



Meysan Store in Lone Pine Circa the Late 1890s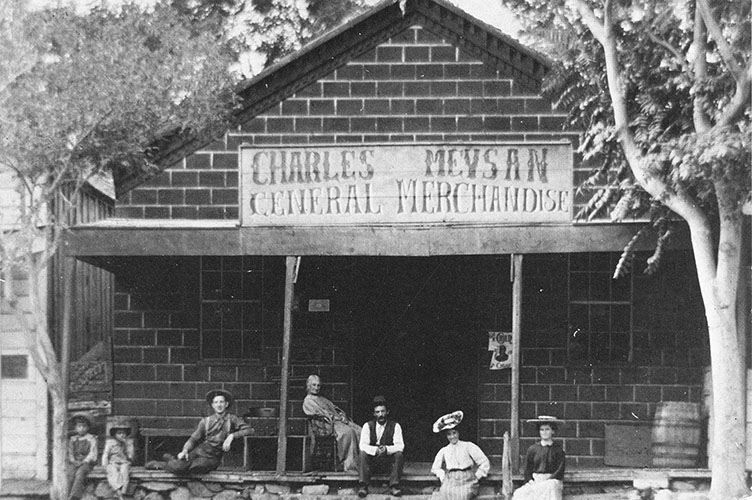 Just in case you ever wondered where those lakes in the canyon just to the south of Whitney Portals got their name!

Early Lone Pine was more lively and colorful than other valley towns. The mines of Cerro Gordo, Panamint, and Darwin brought Lone Pine a floating population of many nationalities, notably miners from Wales, Cornwall, and Mexico. For many years September 16, the anniversary of Mexico's liberation, was Lone Pine's most celebrated feast day -- with guitars, dancing,and cock-fights.
Among the earliest families who came to stay were the Charles Meysans from France. They opened their store in 1869 and rebuilt after the 1872 earthquake.



Lone Pine Saloon - Courtesy of Barb Laskey
Owner - Edward Lasky from the collection of Frank I. and Lena L. Lasky, Lone Pine, CA.
Original donated to the Eastern Sierra Museum, Independence, CA.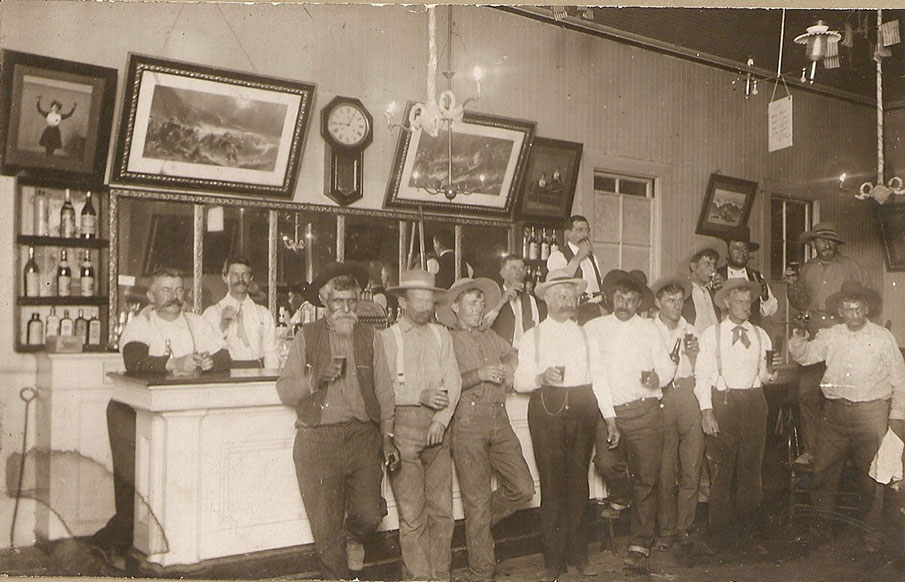 Lone Pine Saloon where Fashbaugh's store stands today.

Front left to Right: Hillario (Larry) Arambula, John Hamilton, Artie Lubken, Fred Burkhardt, Horace Elder, Mike Selzer,
William Harry Jenkins, Frank Olivas.
Back left to right: Harry Reynolds, Henry Burkhardt, Willy Miller, Teho (sp?) Diaz, Bobbie Harry, Albert Sianz,
and the last person's name is really uncertain (Ala-Hambra-Chips-Remro-half ----).



The Tuttle Creek Ashram
Recent Photographs of the Ashram



On the Mt. Whitney Trail


Where did the trail go?


On the summit of Mt. Whitney with a load of wood.


On the summit of Mt. Whitney.


Nearing Trail Crest Pass at 13,777 ft.


Pushing mules on the switchbacks headed towards Trail Crest Pass at 13,777 ft. This trail found out what you were really made of as a packer.

"An Invitation to Catch Golden Trout"[pdf]
by Phil Pister



Golden Trout Camp and Old Army Pass
| | | |
| --- | --- | --- |
| Packers heading out of Golden Trout Camp on their way to Cottonwood lakes and Army Pass. | A bygone era when there was no such thing as a "limit" on the amount of trout you could catch in a day. | A pack train heading east across Mulkey Meadows (more of mile long sandy flat) on the way to Mulkey Pass and Horseshoe Meadow. |
| On the trail up to the summit of old Army Pass. | | On the trail up to the summit of old Army Pass. Snow banks like this one made a packer's summer! Who else but he was going to clear the trail of all the snow? |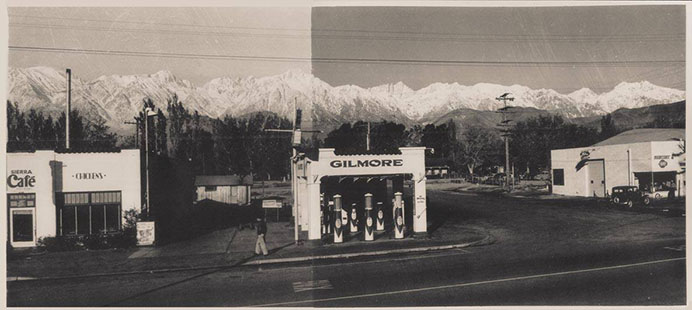 Gilmore Gasoline Station - photo courtesy of Jeremy Gilmore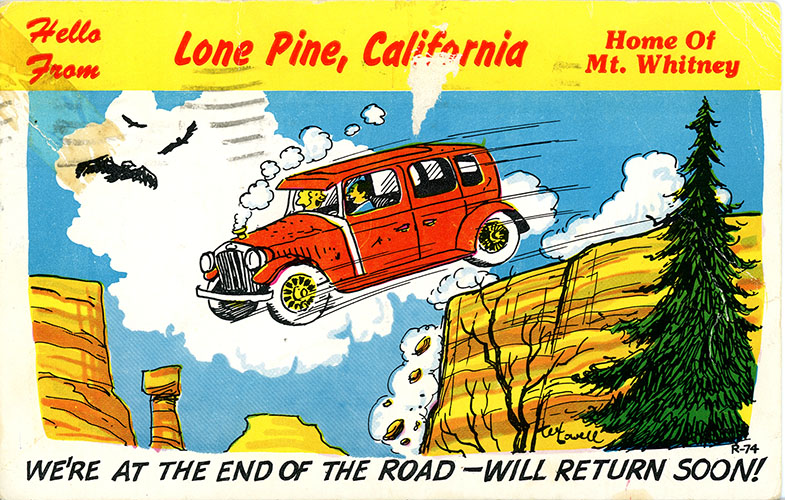 Diaz Lake and Lone Pine photos from "Men, Medicine & Water" by friends of the LACMA Library
Photos were taken by Raymond G. Taylor, M.D. on the occasion of the construction of the Los Angeles Aqueduct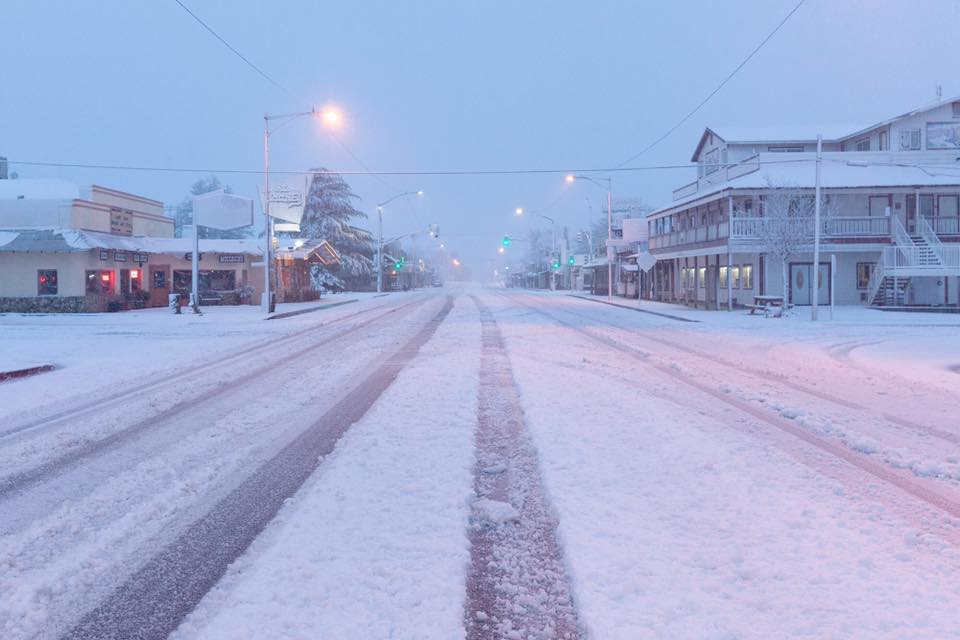 Main Street (U.S. 395) Lone PIne, CA on January 22, 2017 - Photo courtesy of Indigo Hernandez


Lone Pine Matchbook Covers
(Courtesy of Rich McCutchan archives)