Copies of this panoramic photo of Manzanar can be obtained by contacting


All photographs are from my recent trip (Summer 2001) to Owens Valley unless otherwise indicated.

New and Old facets of Manzanar
Before Los Angeles siphoned off all of the water in Owens Valley, before the Carson & Colorado Railroad, before the internment of our own Japanese American citizens, before the mining, sheep, cattle and agricultural pioneers, the area of Manzanar was used for centuries by the native Shoshone and Paiute Indians. It wasn't until the early 20th century (around 1910) that the area of Manzanar developed into a thriving agricultural community. Remnants of these orchards are still visible today.

Two months after the Japanese attack on Pearl Harbor in 1941 President Roosevelt signed the order to intern all people of Japanese ancestry. By March of the next year construction had begun on the Japanese internment camp at Manzanar located between Lone Pine and Independence in Owens Valley. Manzanar interned approximately 10,000 people (most of them American citizens) on some 6,000 acres of arid desert land. The facility consisted of the internment camp, agricultural use areas, a reservoir, airport, cemetery, and sewage treatment plant. Approximately 550 acres of this area was surrounded by barbed wire and guard towers containing the living area for the internees and various administrative facilities.

All that remains of the camp are rock foundations, tumbleweeds, dead orchards and the forever-changed lives of those surviving 10,000 internees. The monolithic marker in the cemetery is an ever-present reminder of the final price that some Japanese Americans were required to pay just because of their cultural heritage.




The cemetery monument.
The Japanese Kanji (I, Rei, Toh) reads:
"To Console the Spirits"


Site of the Hospital Complex.


Looking south from the entrance to the cemetery.


Site of the nurses quarters.


Site of the Hospital Complex.


Site of the Hospital Complex.


What once was "home," if it could be called that at all, is now but ruins and placards. (Dorthea Lange photo)

Charlie Mulcahy of Wilmington, CA writes:
Ray,

When I was growing up, I had a neighbor who was like a father to me. His name was Saburo Seko. His parents were fishermen on Terminal Island. He told me how the US Army soldiers met him at the ferry boat terminal one day after attending a movie in San Pedro. He taught me about the pain his family went through. How the Jews came into their village and paid them pennies on the dollar for their home furnishings. How some of the families were lucky enough to have white families who stored their property in their homes. He took me camping at Manzanar. I got a week long tour of where his family lived. He showed me the rock formation in front of where his home stood that to this day says "SEKO". His words made the water gardens and the fruit trees come alive. We went swimming in the water reserve pond. We caught fish in George's creek. He told me what it was like to graduate from high school at the "camp". Every time my family drives U.S. Highway 395, we stop and look around. The last few times, I have lost where his home was. My friend Sab is gone now, died of a heart attack. I am glad he shared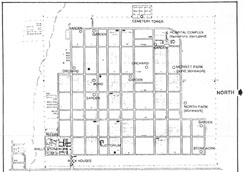 his experiences with me.

Charlie Mulcahy (August 2001)



This is a map of the site of Manzanar as it appears today.

David Sosona of San Diego, CA writes:
Ray,

Having driven past Manzanar many times over the last 30 years, I finally stopped and looked this past summer (2002). I found the remnants of the water gardens so compelling that I came back with a camera about a month later. Unfortunately, I couldn't do justice to the barren wasteland and scrub that is/was Manzanar. I've been searching the web this evening looking for pictures of those gardens as they were--so far no luck. They must have been beautiful and I have been filled with admiration for the artistry of their builders.

I remember the stone circle with the cement cap and the phrase 'built by Wada and Crew' along with the date and the signatures of the crew. I can't describe it exactly, but having a name on the stonework suddenly made for a sharper connection for me. Who was Wada? What happened to him? When I saw the letter from his granddaughter here in San Diego I felt glad to know that he lives on through her.

Charlie Mulcahy's story of his friend Saburo Seko would have been another touching account but for the phrase "How the Jews came into their village and paid them pennies on the dollar for their home furnishings." I don't know what really happened; Whether the people that took advantage of Mr. Seko were Jewish or whether Mr. Seko accepted prejudices which were common at that time. I do know that without the balancing accounts of other internees who were ripped off by THEIR neighbors, Mr. Mulcahy's story perpetuates a stereotype that is as repugnant to me as the phrase "Japs" would be to the descendants of Manzanar internees. I'm not sure I can clarify my feelings any better than that. Perhaps it rankles because it is not Mr. Seko's firsthand account but rather a story that is being retold by a non-Japanese-American who wasn't there at the time. Or, just as likely the reason it bothered me so much is that at Manzanar I tripped over my own stereotypes. When I visited the Manzanar cemetery it was July 4. I remember seeing lots of little American flags attached to the fence and thinking "Now why would there be American flags at a Japanese Cemetery...." and I remember feeling ashamed when I realized that I was thinking "Japanese", rather than "AMERICAN" citizens that were locked up because of their skin color. A fitting reminder for me that I've got some "scrubbing out" to do in my own head, and another reason it's important that Manzanar be remembered.

Dave
(October 2002)


Manzanar Free Press
Complete Issues from the Manzanar National Historic Site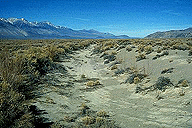 Dry ditch at the site of Manzanar