| | |
| --- | --- |
| | Mt. Whitney Packers of the 1940s - 1970s |
All photos courtesy of Jayne and Bob Douglas unless otherwise noted.

See USE NOTICE on Home Page





Memories of My Packing Days
by Bob Douglas



In 1949 when I was eleven years old my Grandfather, Alfred Biering, took me on my first pack trip in the back country of the Sierra's. Al rounded up (borrowed) several horses and we went on a trip lasting about two months. We started at Sage Flat from Olancha to Monache meadows north to Big and Little Whitney over Siberia pass into Sequoia and Rock creek around and down to the Kern River and back into Wallace lake area before returning back to Rock creek and over old Army pass into the Cottonwood Lakes area. During our trip, while we were camped in Crabtree meadows on the back side of Mt. Whitney, the Forest Service came and took all of our horses, except one old mare belonging to my stepfather, Bud Burkhardt's mother, which Al refused to give up because of the horses age. Two young men had fallen off the East face of Mt. Whitney while mountain climbing. They used the horses to pack the bodies to Whitney Portals.

Al was well known in the Owens Valley as a packer and horse trainer and cowboy. Alfred came from Helotes, Texas near San Antonio at the request of Joe Flores, who was also from Helotes, to the San Fernando Valley in 1919. Joe owned most of the stock used in the silent movies. Al worked as an extra and stunt rider. Al met Fred Moore from Lone Pine while filming a movie in Arizona.

Summer 1954 - L to R:
Back: ?, Clyde Poncho, Skip Parker, Bob Douglas
Front: Tommy Jefferson, Nancy Droubay, Roberta Morgan
Summer 1954 - L to R:
Back: ?girl, Clyde Poncho, ? girl, ?man
Front: Bob Douglas, Skip Parker, ?girl

My grandfather wasn't happy working in the movies and Fred suggested he go to Lone Pine and check it out. Al did and loved it.

He worked for the A.T. Smith ranch out of Lone Pine. (now part of Spainhower ranch). Later he moved to Big Pine and worked the Red Mountain fruit ranch along with his wife Litta and daughter Alfreda (my mother). He moved to Olancha and worked for several ranches breaking mules and horses for George Brown, Mark Lacey, Artie Lubkin and later worked for Ted Cook and Frank Chrysler packing out of Carroll creek pack station and Mt. Whitney pack station.

I started packing about 1952 with my Grandfather for Bruce Morgan at Mt. Whitney pack trains. We packed during the summer and spent the winter in Death Valley at the Furnace Creek ranch working for Bruce in the riding stables.
In 1952 through 1954, 1 worked at Cottonwood pack station for Leo Rodgers (no longer exists) and Bruce Morgan at Mt. Whitney pack train. While working for Leo we took parties up to the Cottonwood lakes, Golden Trout Camp, Rock creek lakes, Crabtree lake, and into Wallace lake. Leo's wife Myrna was well known for her great food. Morning started about 4:30 or 5:00 AM and after catching the horses and mules, feeding and saddling, Myrna would have ham, eggs, biscuits and gravy or hot cakes. She was noted for her wonderful chicken and homemade peach cobbler. In 1953, 1 worked for the new owners of Golden Trout camp building a cabin and wrangling stock for one summer.
In 1954 while working for Bruce Morgan we packed in from Carroll creek across the Sierras to Big Whitney and down into the main Kern river on the west side and dropped into the San Joaquin valley into Mineral King where we picked up the Sierra club and packed them into Big Aurora plateau country. (see pictures 1 -6) Before we started this trip Billy Bishop who taught shoeing classes at Cal Poly and I shoed most of the stock. He coached me how to shoe the proper way for mules and horses. Billy was in charge of packing the heavy camp equipment for the trip.

Bob Douglas


L to R: Bob Douglas, Unknown Packer
Pack trains crossing the top of the Chagoopa Plateau near the Big Arroyo - Summer 1954

---
| | |
| --- | --- |
| Packers at the Sierra Club Commissary | Packing in Mineral King and Big Arroyo country (1954). |

L to R: Skip Parker, Tommy Jefferson, ?man, Bob Douglas (plaid shirt),
Clyde Poncho
Summer 1954


Alfred Biering atop Tom Mix's horse using Tom's hat and saddle


Packers gathered around the Sierra Club Commissary at the Big Arroyo campground - summer 1954.
(Roberta Morgan is seated off to the right in the middle of the five seated Sierra Clubbers.)


"The 49th (1954) Sierra Club High Trip"





Frank Chrysler & Ted Cook (on the right) packing up at Whitney Portals

Early movie set with horses belonging to Joe Flores. Note the old wooden horse trailer.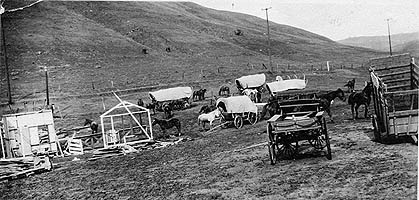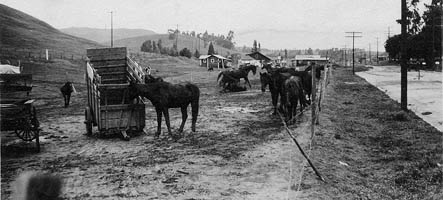 | | |
| --- | --- |
| Louie - the Death Valley Prospector | Friendly faces ready to be packed up at the Big Arroyo |