MANZANAR RINGO-EN
All Manzanar photographs from the Ansel Adams Library of Congress Archives unless otherwise noted.
Text excerpts from "Manzanar" by John Armor and Peter Wright"

Japanese Americans: 99 Nen no Ai
This is the story of a family of Japanese immigrants who crossed over to America 99 years ago, their strugges in America pre-, during, and post WWII. It is the story of 1st, 2nd, and 3rd generation Japanese Americans from both the American and Japanese perspectives. This is a story every American should see.


Portraits of Manzanar

Aiko Hamaguchi


Frank Horosawa


Catherine Yamaguchi




Youth Choir Practice




Kay Kageyama

THE NISEI

Who were the people brought to Manzanar at gunpoint?

They shared only one common characteristic: "a Japanese ancestor in any degree."

Two-thirds were first-generation American citizens. They lived in American cities, attended American schools, and thought of themselves as Americans. That belief was sorely tested when, by order of President Roosevelt -- an order carried out by General John L. DeWitt, West Coast Commander, and his subordinates -- they were removed from their homes, schools, and businesses, and brought to Manzanar and nine other camps like it. The first-generation Japanese Americans were called, in Japanese, Nisei.

A few were second-generation Americans, called Sansei. Neither they nor their parents had ever known any other life than their life in the United States.

Almost a third of the prisoners were Japanese citizens, resident aliens by definition of the U.S. immigration law. They were called Issei. All of this group had lived in the United States at least eighteen years, since American borders were closed to Japanese immigrants in 1924. All had been specifically barred from applying for American citizenship. The right to become an American citizen was not allowed to the Japanese until 1952, when quotas were introduced.

Because the Issei would have become American citizens, given the opportunity, the Issei and the Sansei are sometimes described generically as Nikkei.




Louise Nakamura


Frank Hirosama

Describing Manzanar and the others as "concentration camps" conjures horrible images of the ovens of Dachau under the Nazis, or the Soviet Gulag in Siberia. As bad as they were, the American concentration camps never approached the horrifying conditions of the camps in Europe. There were no gas chambers or medical "experiments" at Manzanar or the other American camps. There were no attempts to work prisoners to death.

In fact, the food and the medical care at Manzanar were better than adequate, in large measure because the Nisei were given the opportunity to provide for themselves.

There was one other difference separating the American concentration camps from the European camps. In most instances, families were kept together. The Nisei prized the institution of the family. It may be this difference, more than all others that allowed them to survive and prosper under very difficult circumstances.








Manzanar
By Tom Russell
(Sung by Tom Paxton)

He said, My name is Nakashimau
I am a proud American.
I came here in '27,
From my homeland of Japan.
And I picked your grapes and oranges,
Saved some money, bought a store.
Until 1942,
Pearl Harbor, and the War.

Came the relocation orders,
They took our house, the store, the car,
And they drove us through the desert,
To a place called Manzanar.
A Spanish word for apple orchards,
Though we saw no apple trees.
Just the rows of prison barracks,
With the barbed wire boundaries.

Chorus:

And we dream of apple blossoms
Waving free beneath the stars,
Till we wake up in the desert,
The prisoners of Manzanar,
Manzanar.

Fifty years have all but vanished,
And now I am an old man.
But I don't regret the day
That I came here from Japan.
But on moonless winter nights,
I often wish upon a star,
That I'd forget the shame and sorrow,
That I felt at Manzanar.

Chorus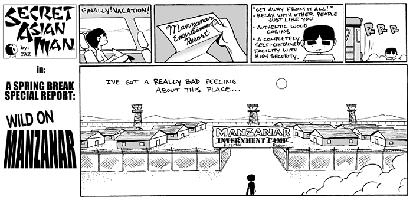 Secret Asian Man Manzanar Cartoon by Tak Toyoshima
[copyright Tak Toyoshima]






Manzanar Relocation Office


Manzanar "Reception" Center




| | |
| --- | --- |
| | |
| Luggage Trunk | Japanese Lantern |


Internment Camp Paintings by Internees



Akio Ujihara Painting


Akio Ujihara Painting



Akio Ujihara Painting


Barracks Nameplate



Kango Takamura Painting


Kango Takamura Painting

Japanese American Citizen's Short-Term Leave Authorizatiion



Manzanar Images courtesy of Rich McCutchan


Michiko Sugawara



Mr. Matsumoto with the children


Desk of Roy M. Takeno


Roy Takeno - Editor of the Manzanar "Free Press"

The Nisei's Fate

The numbers alone tell an important part of the internment story. Only 1,875 Nisei from Hawaii, each individually identified as a possible threat to the security of the United States, were interned. The rest of the 120,000 prisoners were from the mainland. Manzanar was the first of ten camps to open. The following list identifies all the camps, their first and last days of operation, and the maximum number of prisoners held at any time in each - and offers a stark picture of the Nisei's fate:



Gila River, Arizona
Granada, Colorado
Heart Mountain, Wyoming
Jerome, Arkansas
Manzanar, California
Minidoka, California
Poston, Arizona
Rohwer, Arkansas
Topaz, Utah
Tule Lake, California

Aug. '42 - Nov. '45
Sept. '42 - Oct. '45
Sept. '42 - Nov. '45
Nov. '42 - June '44
June '41 - Nov. '45
Sept. '42 - Oct. '45
June '42 - Nov. '45
Oct. '42 - Nov. '45
Oct. '42 - Oct. '45
June'42 - Mar. '46

13,400
7,600
11,100
8,600
10,200
9,990
18,000
8,500
8,300
18,800


Total


114,490






Tom Kobayashi


School girls


Bert K. Namura


Corporal Jimmie Shohara


Kay Fukuda U.S.

Henry Murakami was a fisherman living on Terminal Island in Los Angeles. Like many Nisei fisherman, he was arrested and jailed, not merely interned. He lost three purse-sein nets valued at $22,000. His pregnant wife and four children had only forty-eight hours to prepare to go to Manzanar. "She couldn't carry anything except clothing... We had a three-bedroom house with a kitchen. My wife had to abandon everything...the furniture and all of our other furnishings, including a 1940 Plymouth...no one ever knew what happened to my property."

Yoshio Ekimoto was a Nisei, born in 1914. His family owned a forty-acre farming northern Los Angeles County. His parents had bought this farm in 1912, the year before California passed a law making it illegal for Japanese aliens to own land in the state.

Ekimoto was interned at Poston, Arizona, in May 1942. He was one of the few who was able to keep accurate records of his losses.

When he returned home in 1945, his farm had been completely mortgaged. He was forced to sell it to pay the mortgage. He had listed all the personal property he lost while he was interned, down to cameras, boxes of shotgun shells, and the attorney's fees he incurred (five dollars) in trying to avoid what inevitably happened to him and his family.

His total losses came to $23,824 in 1942 dollar, which represents nothing of the additional personal harm suffered by him and his family, including his wife's miscarriage as a result of the internment. He was paid a total of only $692 in compensation under the 1948 Evacuation Claims Act.

Diane Tollefson from Westminster, CA. Writes

Hello I just visited your site and have a report for you.

The two barracks buildings from the Lone Pine airport are on the site at Manzanar. I am sure they represent only a dot of all the buildings that were once on that sloping land; however, they created a strong impact on me. I was born in 1942 and did not really know the FEAR of Japan as my elders did. I was influenced by the beautiful colors and designs of the Japanese artist and craftsmen, so much so that I continue to reproduce that idea in my own artwork on a regular basis.


On the first Sunday of May, I went with a group of artists to Manzanar. The group was originally formed by a man named Henry Fukahara who lives in Santa Monica and is now 95 years old. He was assigned to Manzanar as a young man and has gone back many times to paint the area. He is a watercolorist of great renown although he is now blinded by Macular Degeneration, such a sad thing. His friends and family want to continue this annual expedition as a tribute to Henry and all the people who once lived there.

I visited the Visitors Center and thought it was very well done. The Rangers on duty recognized the pin I wore on my shirt as an "original" Takahashi bird pin, which it is, and I bought it from the artist herself many years ago.

I looked up some names on the computer. Names of people that I know that were assigned to those barracks. It is an emotional thing to find their little names in the great big books.

When I finally settled down to paint.those two barracks, the buildings kept "talking' to me. I knew that they were not finished and the looked askew and out of place where they were. I tried and tried to paint other things, trees and hills and snow peaks and rocks, but I finally took a few moments and slapped some paint on a page. Now, two weeks later, I find that that small sketch is the one I really wanted to do. Imagine that, four families of about four each lived in one of those barracks. How did they manage. The humiliation of the latrines and those lines. The crowded laundry rooms, and those lines; the towers and shame. I think those
families endured as champions. I am a descendant of Norwegians and Germans and I wonder how THEY would have gotten along in the same situation? Probably not so well.

I am going to try to send you a copy of my sketch..and encourage you to write more about this place and the people who were there. They are dying out and should be remembered as 110% Americans.

Diane Tollefson - 2008


Tom Jackson from San Diego, CA. Writes

When I was a young boy, in about 1944, I remember that one of my mother's sisters lived in a place called Lone Pine. I knew that my uncle was in the army, but had no idea of what he did. When I was older, I learned that, owing to insufficient qualifications for combat duty, he was assigned as a guard at Manzanar. Ironically, my mother's best school chum in Reedley, CA, was later interned there, along with her family.

I remember, from my elementary school days, the former Japanese truck farms in Tulare County - always meticulously tended and weeded - which were suddenly in the hands of whites. Somewhere in my mother's effects is a round camp badge, similar in size to an old political button, green and white, with Japanese characters scratched on the reverse side. If I can locate it, I would like for it to become part of a historic display or returned to the family of the internee whose serial number is on the front.

Tom Jackson
March 2008

Elizabeth Adamson from Bishop, CA. Writes

I came to the Bishop from Ireland with my Mother when I was 6 months old. My mother was a war bride. My granddad, David S Bromley worked in Manzanar. Some of my earliest memories were of going to Manzanar with my Granddad. There didn't seem to be a lot of people left, but I always remember visiting with those who were there. One of my most vivid memories (and 1st memories) is of a very kind Japanese lady giving me a sugar cube. I thought this was the greatest thing in the world and still hold that memory close to my heart. I don't get to Bishop very often, but would love to visit Manzanar. I remember, so vividly, my Granddad speaking so highly of the people in the camp. I always felt, that he felt it was wrong. I think his emotions came out in his poetry. It's quite a legacy that I've been left with and I would love to learn as much as possible about this time in my Granddad's life. I know it affected him forever.

Elizabeth Bromley Adamson
October 2007
Rock Creek, Mammoth, Tom's Place


Photographs courtesy of the Library of Congress American Memory Project


| | |
| --- | --- |
| Japanese arriving on the Southern Pacific Railroad from Los Angeles at the Lone Pine Depot. | Japanese arriving on the Southern Pacific Railroad from Los Angeles at the Lone Pine Depot. |
| | |


Private Margaret Fukuoka



Tom Kobayashi



Toyo Miyatake Family



Masao Nakazawa - Chemistry Teacher

Since the War

Forty percent of the survivors of the Issei, those Japanese who entered the United States prior to 1924 but were never permitted to apply for citizenship, and who were interned at Manzanar and other camps, now live in the greater Los Angeles area. One-fifth of them live below the poverty level. Most have problems with health care, housing, and access to government services. Yet before they were interned, almost all were members of cohesive, self-sufficient families.

It is ironic to mention generations of Indian treaties broken, or the loss of all possessions and years of imprisonment that the Nisei suffered.

One earlier effort was made to compensate the Nisei. The Japanese American Evacuation Claims Act of 1948 applied only to property losses, required elaborate documentation, and ultimately paid on $37 million against $148 million in claims. Also, it paid in 1942 dollars and without interest. It offered nothing to account for the strain of imprisonment itself, for lost income, or even for some major categories of property, such as crops left in the fields as the Nisei were taken away.





May Ichide - Sunday School Teacher


Packing up to leave Manzanar



Yumiko Sedohara



Ryohe Nojima



Yuri Yamazaki, High School Student

Joe Barrett Writes


My step-father, Fumio Morikawa, left our family a photograph of the basketball team he managed while he was interned in the Manzanar concentration camp during WWII. He entered the camp in March 1942 and was released in June 1944. I don't know anyone on the photograph and my father is not in the photograph. However, the photograph is signed by many of the team members. I don't have a date for the photograph.

Joe Barrett
December 2008

Manzanar Basketball Team

Tar Paper and Boards
The barracks at Manzanar were constructed of quarter-inch boards over a wooden frame, the outsides of which were covered with tar paper nailed to the roof and walls with batten boards. Heat was provided by oil-burning furnaces. This was the cheapest, quickest way to provide living quarters slightly better than tents. At Manzanar, the cost of this construction was $3,507,018, or $376 per inmate.

According to army regulations, this type of housing was suitable only for combat-trained soldiers, and then only on a temporary basis. The army called this "theater of operations" housing. But at Manzanar and the other camps, these barracks were used as long-term housing for men, women, and children -- who stayed in them for up to three and a half years.

In many ways, Questions and answers for Evacuees glossed over, in soothing bureaucratic language, the ramifications of the Nisei's evacuation and the circumstances they would encounter in the camps. The booklet was fairly accurate, however, when it warned the Nisei to be prepared for temperatures varying from "freezing in winter to 115 degrees in...the summer." Manzanar provided both of those extremes, plus wind that whipped the snow across the desert in the winter, and dust in the spring, summer, and fall. Among all the camps, the extremes of temperatures endured by the Nisei ranged from 130 degrees in Poston, Arizona, to minus thirty degrees in Heart Mountain, Wyoming.

| | | |
| --- | --- | --- |
| | Sierra Crossing | |
| | Ghosts of the Past - Owens Valley Aqueduct & Cottonwood Sawmil | |
| | 20 Mule Team History | |
| | More Manzanar Japanese Internment Camp History | |
| | Manzanar High School | |
| | ManzanarJournal - Berry Tamura | |
| | Manzanar Free Press | |


Sign Guestbook

View Old Guest Book Entries
Oct 1999 - Feb 2015 (MS Word)



CONTACT the Pigmy Packer



View Guestbook

View Old Guest Book Entries
Oct 1999 - Feb 2015 (PDF)

This page was last updated on 08 February 2020