Bill Smart

Bill Smart Archives
Mt. Whitney Packers of the 1940s - 1950s


All photos courtesy of Paul Lamos from the archives of his stepfather,
and former MWPT packer, - Bill Smart.

See USE NOTICE on Home Page


L/R: ?, Mary Lamos, George Lamos, ?

Mary Lamos

Bill Smart on the summit of Mt. Whitney

Charlie Gilmore
1949 Sierra Club "High Trip" Packers

Just the thought of being on another Sierra Club "High Trip" brought excitement to most packers. It could be "the best of times and the worst of times" as Charles Dickens might say. Those early days of High Sierra packing often saw upwards of 200 people on the High Trip. There could be as many as 12 strings of mules, not to mention riding horses for some of the Clubbers. With a horse and five mules per packer, the trips were taking anywhere from 90 to 120 head of stock into the mountains. Without a night herder it would have been impossible to locate all of that stock in the morning.


From left to right (rear log): Smokey Bye, Charlie Gilmore, Bill Smart, Bruce Morgan, Jack Hyneman, Ivan Hason,
unknown, unknown, Ted Ott.
(front, sitting on the log) Pete Garner, Bud Steele.

"Oh, for the Life of a Packer"[pdf]

by Norman B. ("Ike") Livermore Jr.


1947 Sierra Club "High Trip" Packers


Another View of the same bunch of packers.

Scenes like this made all of the unexpected wrecks, falling loads, loose saddle rigging, thrown shoes and sometimes long early morning wrangles all worth it. It could be Benson Lake in northern Yosemite National Park or Moraine Lake on the Chagoopa Plateau in Sequoia National Park. The lake almost didn't matter. It was the "Spirit of the Sierra" which gripped each packer every summer and seemed to make life all worthwhile!

From left to right (standing): Charlie Gilmore, Bud Steele, Mert Stewart, Tom Jefferson, unknown, Pete Garner,
Ike Livermore, Ed Thistlewait, Smokey Bye.
(seated): Ivan Hanson, Bill Smart, Dick Troeger, unknown.
Packers taking a break in the Sierra Club commissary

The Sierra Club commissary truly was (other than his mule) his best friend on a High Trip. Of course, it didn't hurt to have a beautiful young lady on commissary detail to become temporarily (for the duration of the trip) enamored with you. Not only could her smile and affection make all of those early morning wrangles and trail dust seem pleasant; but, you could be assured of a hearty lunch when other packers might be eating peanut butter sandwiches, beef sticks and crackers. Becoming a "friend of the commissary crew" was of utmost importance!


2, 3, 4

L to R: unknown, unknown, unknown (woman) Tommy Jefferson, Pete Garner.
High Sierra Guitar Pickin'

Tommy Jefferson relaxing in the High Sierra entertaining himself, the packers and the Sierra Clubbers. This is the way packing was meant to be; well, at least part of the time anyway. If you couldn't play a guitar, at least you could whistle or sing your favorite tunes as you wiled away the hours in the saddle between camp moves or pushing cash. And who could complain about your voice, your horse? You certainly wouldn't hear any complaints from those mules!

Thomas Jefferson
by Sara Jefferson

This is a tribute written by Sara Jefferson which appeared in the April 1993 issue of "The Album." Thanks to Rich McCutchan for loaning me the issue.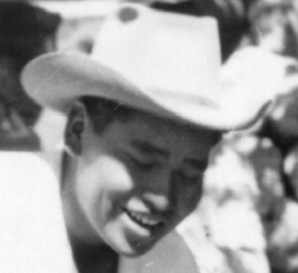 When you hear the name Thomas Jefferson you see the Declaration of Independence or the third president. When I hear the name Thomas Jefferson I see a big, handsome Paiute, Shoshone, and Mono Indian, a large grey hat, and handmade cowboy boots. I see a man that has gone through a lot in his time. The man I see is my Dad Thomas Jefferson.

He was born in 1927, in Lone Pine on the old Spainhower Ranch. He grew up being a cowboy, riding, roping, and storytelling. I would like to share the stories and adventures with you because these stories have helped make a piece of Inyo County history.

When my dad started cowboying, cowboys had a hard life. Riding 8 to 10 days straight on a cattle drive from Lone Pine to Crowley Lake, forcing 2000 head of Hereford (white faced) cattle ahead of them. Riding in the Spring, Summer, Fall, and Winter got to be very hard work. He has worked with the local ranchers Fred Reynolds, A.A. Briely, Sandy Kemp, and the Spainhower Ranch. Through these people my dad developed a knowledge of the Owens Valley that has served him and Inyo County well.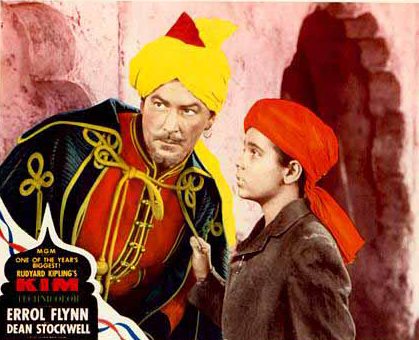 In the summer, my dad would pack in the mountains. My dad has packed in many famous people in the mountains, the director of "Ben Hur" for instance, William Wyler; the world renowned photographers Ansel Adams, and Cedric Wright; Robert Cutter, whose family owns the Cutter laboratories, and the maker of Cutter products. He has also packed Robert Middleton, the actor; Eddie Anderson, who was Jack Benny' s sidekick; William Colby, the founder of the Sierra Club; Norman Livermore, who was governor Reagan's Resource Department manager; and the former President of the United States, Ronald Reagan. Through these people, my dad has touched not only Inyo County history but he helped Inyo touch California, U.S., and World history. Besides cowboying and showing famous people the majestic backcountry of the High Sierra, he wrangled for the movies. What he did mainly was to supply the horses, and to make sure all the horses and cattle wouldn't run off. He also did special effects in the movie "Rawhide."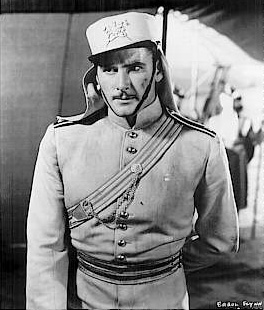 He's worked on movies such as "Jungle Raiders", "Tarzan", "Desert Mysteries", "The Untamed Breed", "Kim", "Rawhide", "The Violent Men", "The Great Race", and many other low budget, unknown movies.

One of the western stories my dad likes to tell is about when he was bringing a string of frisky, bronc mules down Horseshoe Meadow road while the "King Of The Khyber Rifles" was filming soldiers going over the supposed Khyber pass. They told him to wait because he was in their way, but he wasn't about to wait for a stupid movie with a bunch of frisky mules. It is kind of impossible! So the director had to stop everything and as he was coming slowly down the steep slope, all the people scared the mules, the mules pulled back, breaking the ropes holding them together. Actor, directors, and movie people were scrambling for their lives. At that very moment the bellowing voice of Russel Spainhower cried: "for God sakes people stand still." This taught the directors a thing or two. My dad went onto his business and that was that.

My dad has met many movie stars, Jack Elam (whom he played pool with on the set of "Rawhide") also Randolph Scott, Susan Hayward, Dean Stockwell, Dean Jagger (also in "Rawhide"), and the ever famous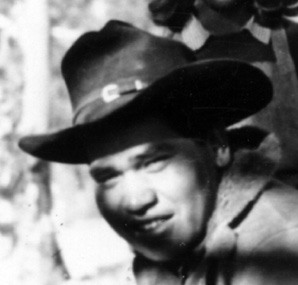 Errol Flynn who became a good friend. All of these movies brought stars, hopefuls, and ideas, with these put together this made movie history in Inyo County.

My dad has seen, met and talked to many famous and intelligent people. But when he pulls out his guitar he I s the famous one. I've even heard ladies call him the "best" guitar player in the world! And even unbiased people love him.

My dad has often said: "I hired out to be tough and I think I'm gonna fill the bill." Well with the history I have given you, you see that my dad has done a lot of hard work in his life. This hard work and toughness has contributed to the making of Inyo County history. I hope now when you hear the name Thomas Jefferson, next time, you see the great man I do.
"Are Mules Necessary"[pdf]

by David R. Brower




Tracy Stillwater from Medocino County, CA writes.

Ray,

In 1970/71, I used to pack in from the old Sam Lewis site at Haiwee Canyon to Dutch John Flat, with John Slaughter's bunch. Those were some of the greatest experiences of my life! They provided the basis for many hugely romantic memories - and one of the most frightening: packing all the way in, including crossing the South Fork, in utter and complete darkness! (NOT my idea!). I have some vacation time in July, all to myself, for the first time in 20 years - and what I want most of all to do, is go hang out on the desert. I would very much like to walk in to our old spot at D.J.F., but I've acquired some apprehension over the years to attempting it alone.

Tracy Stillwater (May 2002)
Making Shoeing Look Easy

Tommy Jefferson shoeing at the Carroll Creek Pack Station. This was obviously not a docile mule from the looks of it, otherwise the mule's foot would not be tied up. Then again, this wasn't a bronc mule ether or he would be using a shoeing machine. Shoeing, for the packer, was a mix of art, ingenuity (especially in the backcountry) and sheer guts. Just when you thing have the personality of a particular mule figured out, he kicks you and the shoe off!
"High Sierra Packers of 1952"[pdf]

excerpt from the May 1952 "Sierra Club Bulletin"