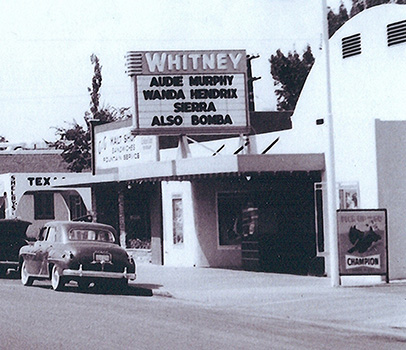 The Whitney Theater in Lone Pine - 1948
The March 1, 1924 issue of
Motion Picture News
listed Lone Pine Hall as one of the Southern California locations at which new Simplex projection equipment had recently been installed. Both Lone Pine Hall and the New Lone Pine Theatre were mentioned in the December 6, 1930 issue of the
Big Pine Citizen
. The October 3, 1932 issue of the
Citizen
said that the mystery thriller
Dr. X
would play at the Lone Pine Hall Theatre on October 4th, 5th, and 6th.
A July 23, 1932
Citizen
article noted that Ray Pierson had leased the Lone Pine Hall in 1930. He was still operating the house in 1932. Mentions of Pierson (sometimes with the variant spelling Pearson) as operator of the Lone Pine Theatre appear in trade journals through the 1930s and 1940s, one in the May 29, 1948 issue of
Motion Picture Herald
, not long after the same publication noted that Western Amusement Company was building the new house that would open later that year as the Whitney Theatre. I haven't been able to discover if the Lone Pine continued in operation after the Whitney opened.
[Joe Vogel
- May 23, 2021]
[Photo courtesy of Cinema Treasures]