Early Bishop - 2
(Samuel Addison Bishop, pictured)
Samuel Addison Bishop came to Owens Valley during the summer of 1861 after a 51 day trip from Fort Tejon. He made his camp at a location a short distance west and south of the present city of Bishop and later built a house at that location. He named his holdings the "San Francis Ranch." He was a Virginian, born in 1825; a California Forty-Niner; judge at Fort Tejon; and, partner of General Beale in the cattle business. His residence in Bishop was of a comparatively short duration and his closing years were spent in San Jose. Bishop Creek is also named after him.
All pictures and text on this page from "100 Years of Real Living" by the Bishop Chamber of Commerce, 1961, unless otherwise noted.
Thanks to Rich McCutchan for loaning me the out of date publication.

See USE NOTICE on Home Page.



Chronological History of Owens Valley
by Al Gagnon







An armature for one of the first generators in California Electric Power Company's Bishop Creek hydroelectric system being hauled by a 20 mule team.
(Calectric collection)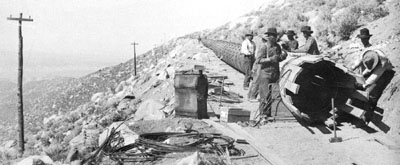 Laborers at work on a redwood flowline which carried water from Bishop Creek to Plant #2. This picture was taken while the plant was still under construction.
(Calectric collection)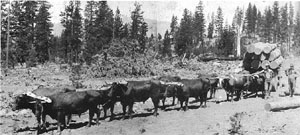 Oxen being used in the logging operations at Sawmill Meadows west of Benton near Adobe Valley. The logs were used to provide timber for the mines located at Blind Springs Hill and elsewhere in Owens Valley .
(Douglas Robinson collection)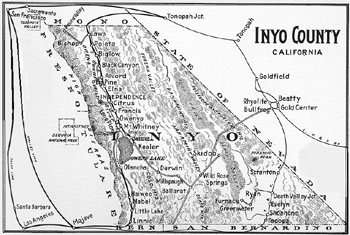 Inyo County map from the late 'teens and early 'twenties, before there was any U.S. Highway 395 on the western side of the valley. A time when names such as Poleta, Biglow, Black Canyon, Alvord, Elna, Citrus, Francis, and Owenyo actually meant something more than just a ghost of the past.

| | |
| --- | --- |
| | Rev. Andrew Clark: The first minister in Bishop. Andrew was born in Allegheny County, PA on July 14, 1832. During the Civil War he fought for the Union during the battle of Shiloh. In 1865 Andrew moved his family, by covered wagon to Owens Valley. He organized the first church society, the Baptist church, of any kind east of the Sierra Nevada in January of 1869. His long missionary trips north and south of Bishop originated the term "Gospel Swamp." |


Interior view of the Inyo County Bank (the "Watterson Brothers Bank").
[L to R]: Mark Q. Watterson, W.W. Watterson, A.D. Schively.

(Fred Steuttig collection)


Willie (Bill) A. Chalfant .
(Elma Crosby collection)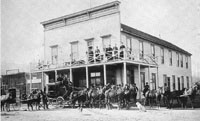 The Valley View Hotel in Bishop.


Photocards courtesy of Rich McCutchan

Fred

Bulpit's

home - Bishop, CA

Stagecoach in Bishop, CA

Main Street - Bishop, CA