Bishop - 2
(Samuel Addison Bishop, pictured)
Samuel Addison Bishop came to Owens Valley during the summer of 1861 after a 51 day trip from Fort Tejon. He made his camp at a location a short distance west and south of the present city of Bishop and later built a house at that location. He named his holdings the "San Francis Ranch." He was a Virginian, born in 1825; a California Forty-Niner; judge at Fort Tejon; and, partner of General Beale in the cattle business. His residence in Bishop was of a comparatively short duration and his closing years were spent in San Jose. Bishop Creek is also named after him.
All pictures and text on this page from "100 Years of Real Living" by the Bishop Chamber of Commerce, 1961, unless otherwise noted.
Thanks to Rich McCutchan for loaning me the out of date publication.

See USE NOTICE on Home Page.



Chronological History of Owens Valley
by Al Gagnon







An armature for one of the first generators in California Electric Power Company's Bishop Creek hydroelectric system being hauled by a 20 mule team.
(Calectric collection)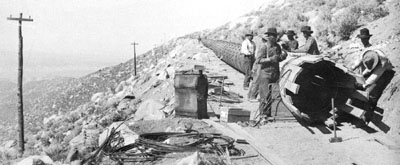 Laborers at work on a redwood flowline which carried water from Bishop Creek to Plant #2. This picture was taken while the plant was still under construction.
(Calectric collection)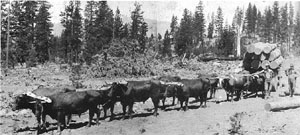 Oxen being used in the logging operations at Sawmill Meadows west of Benton near Adobe Valley. The logs were used to provide timber for the mines located at Blind Springs Hill and elsewhere in Owens Valley .
(Douglas Robinson collection)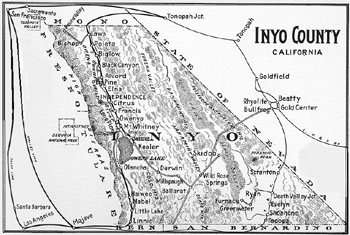 Inyo County map from the late 'teens and early 'twenties, before there was any U.S. Highway 395 on the western side of the valley. A time when names such as Poleta, Biglow, Black Canyon, Alvord, Elna, Citrus, Francis, and Owenyo actually meant something more than just a ghost of the past.

| | |
| --- | --- |
| | Rev. Andrew Clark: The first minister in Bishop. Andrew was born in Allegheny County, PA on July 14, 1832. During the Civil War he fought for the Union during the battle of Shiloh. In 1865 Andrew moved his family, by covered wagon to Owens Valley. He organized the first church society, the Baptist church, of any kind east of the Sierra Nevada in January of 1869. His long missionary trips north and south of Bishop originated the term "Gospel Swamp." |


Interior view of the Inyo County Bank (the "Watterson Brothers Bank").
[L to R]: Mark Q. Watterson, W.W. Watterson, A.D. Schively.

(Fred Steuttig collection)


Willie (Bill) A. Chalfant .
(Elma Crosby collection)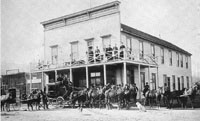 The Valley View Hotel in Bishop.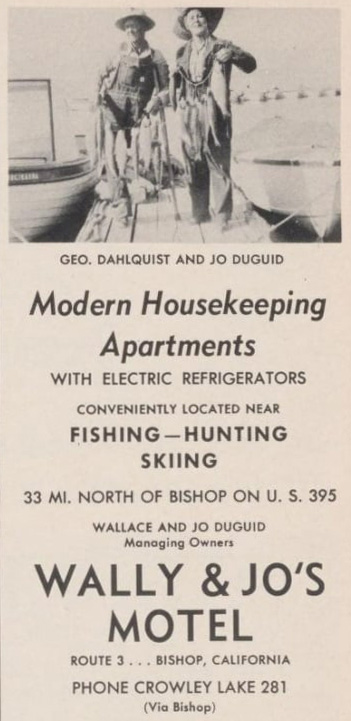 Old U. S. 395, aka Crowley Lake Drive, Memories ...
Who can forget Big Jo Duguid and her daughter Little Jo. Guests would come up in the summer and stay for a month.
This portion of Old U.S. 395 was built when they kew the lake was finally going to be built and the waters would flood the existing road which went through Crooked Creek.
My family knew where the road had to go so various members homesteaded through Federal Land Grants what became the communities of Hilton Creek, McGee Creek, and Long Valley aka "Skunk Hollow" in the early 1900s.
My grandfather sold off McGee around 1920 to the Keoughs who built the lodge and resort cabins. Hilton was lost in the Watterson Bank failure. We still owned Long Valley which was subdivided piece by piece through the 1970's.
(Advertisement and text courtesy of Hal Eaton)

Photocards courtesy of Rich McCutchan

Fred

Bulpit's

home - Bishop, CA




20 Mule Team hauling a boiler - Bishop, CA - March 1915

Besides the mules in front of the boiler, there are four mules in the rear pushing the dynamo!

[The mule train is on Sierra Highway and TuSu Lane, looking north, taken from where the Chevron station is now. The Matlick house is on the left, and their old red barn is on the right behind the boiler (or water tank). Our (Coons Gallery) gallery is to the right of that, not yet built when this photo was taken. - Wynne Benti-Coons)]

20 Mule Team hauling a boiler - Bishop, CA - March 1915

Photo #2

Stagecoach in Bishop, CA

Main Street - Bishop, CA

11/21

Bishop circa 1910
(Photo courtesy University of Riverside Digital Collectiions)

Photographs and text courtesy Hal Eaton
I am pretty sure this is in Bishop when sports writer Charels E. Van Loan visited town. He died in 1919.



In 1915 Van Loan wrote a series of articles in the Saturday Evening Post called "Ghost Cities of the West" which included " Bad, b-a-d Bodie" which was the first mention of Bodie as a "ghost town" which is was not and gave the impression that is was deserted. Looters descended on homes of people that live there who returned to find their possessions pilfered. My father remembered visiting Bodie in mid-1920s and going to dances. My family made a visit to Bodie in 1932 and my uncle, Henry, wrote a nice article on the town published in the LA Times.





Van Loan's visit was in May of 1915, and was the four "Ghost Cities" Saturday Evening Post Articles were high influential in shaping Western historical fiction--the term quickly changed "Ghost Towns" and soon was the common phrase. Local Nevada papers did not like that he made so much stuff and label some still alive communities as such.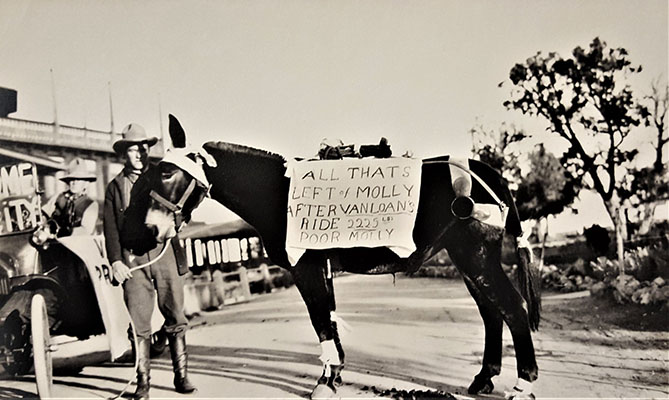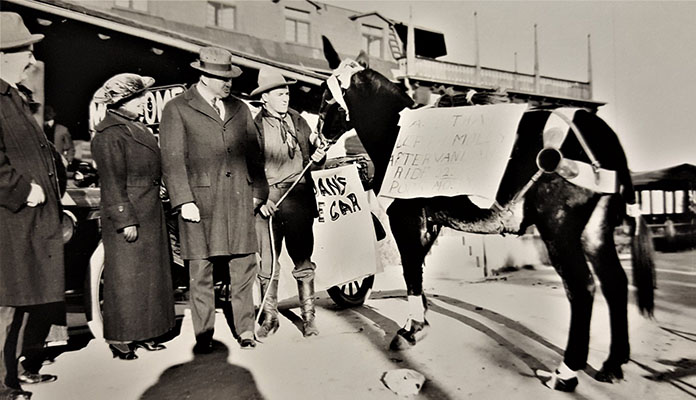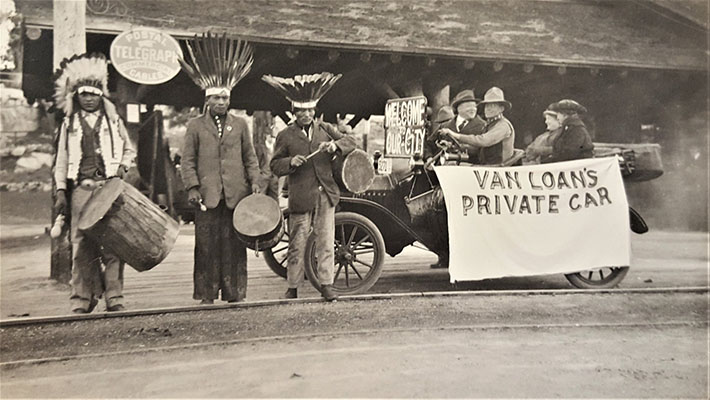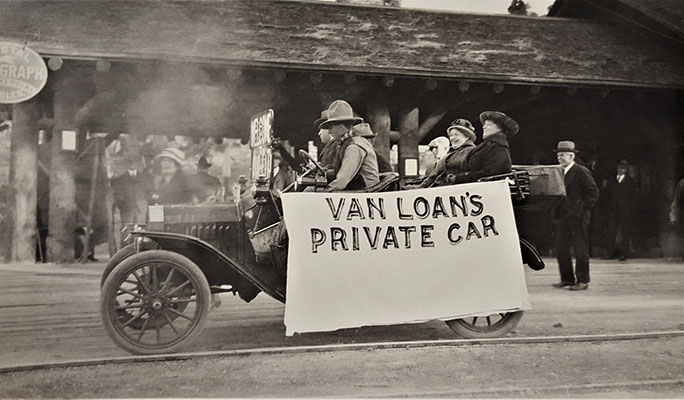 08/21

Bishop resident and Hollywood actor - Elisha Cook (Cookie) Jr.

Vignettes from local folks that knew Elisha.

Toni StocktonBamer writes:
He would always go into McMurrays for a drink then head out. His station wagon would have at least 5 or more dogs inside of it.

Pat Houser writes:
Cookie was a special guy, if you didn't know who he was, you would never guess. I worked with his wife Peggy at Pioneer Hardware. Great lady, Cookie would stop by, they had stars in their eyes seeing each other. They were cute. Cookie would often take a bunch of kids up to Sabrina fishing, he even had his own little rock island they would go to. What a guy!

Sara Robinson writes:
Cookie was the first man I ever danced with. He taught me to jitterbug at a Bishop Community Theater cast party when I was 13.

Bailey Lee McRoberts writes:
I met him in the early 70s in bishop. My mom and dad drank beer with him at the bars in bishop and my mom worked with him as she was a waitress in bishop for many years!

Bob Graves writes:
As a summer worker for USFS in the early seventies, I used to enjoy the occasional chat and hearing Hollywood stories while sharing lunch with him at Lake Sabrina. Humphrey Bogart, Gary Cooper, etc. were all his friends.

Ed Jones writes:
He was my mom's landlord back in the early 1960s he and his wife lived in the house in the back and we lived in the front house. He was always very friendly and would regal us kids with his many stories about his years in show business. I still miss him to this very day.

Susan Shaw writes:
Cookie and his wife Peggy lived at Teacher's Point on Lake Sabrina during the summers. They brought kids up from Bishop to camp out with them. I loved to hang out at their camp the summer my family lived at Lake Sabrina Camp.

Sam McCay writes:
Remember Career Day at BUHS? Cookie was guest speaker for Mr. Benson's theatre kids. I knew he was on campus because I spotted his car in the parking lot - that big pink 50's land yacht with dog snot all over the windows.

Susan Story Harrelson writes:
I meet Mel Gibson and Sylvester Stallone in Cookie's driveway at his little house in Bishop. That's when I realized how short they both were. LOL .


Elisha Cook Jr. and Frances Underwood starring in "Her Unborn Child"
(Photo courtesy of Dr. Macro)

Photos courtesy of Dorine Mathieu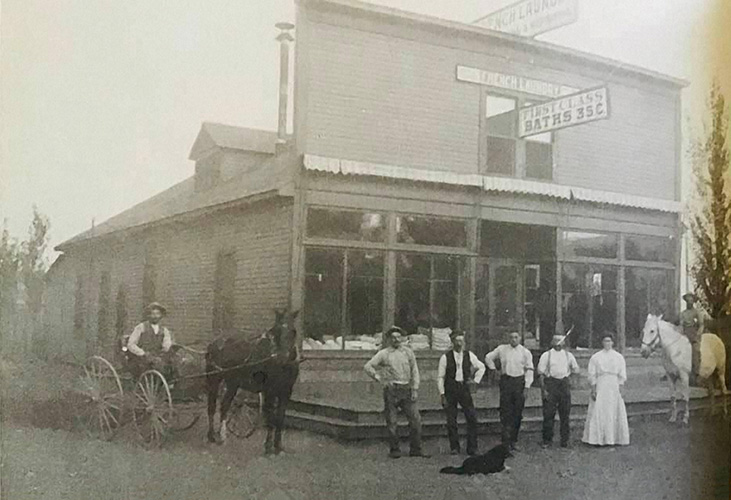 The French Laundry in Bishop advertising first class baths for 35 cents.
L/R: Leon Orcier, ? Arzul, unknown, Jacques Bayes, Auguste and Anna Cazassus, unknown
(Photo courtesy of Bertha Berges Gates)