W.A. (Bill) Chalfant began his newspaper career at age 8 when he started the Juvenile Weekly printed on a small press given him by his father. Only death - at age 75 brought his editing career to an end.

Young Chalfant grew up in a printshop, first at Virginia City's famed Territorial Enterprise where his father worked and then in his beloved Inyo County where he and his father founded the Inyo Register in 1885.

Chalfant took over the editor's chair in 1887 and soon had a lifetime battle on his hands: to keep Los Angeles from turning the Owens Valley into a desert by draining its water

Chalfant and his paper fought valiantly - both the marauders from Los Angeles headed by Chief Engineer William Mulholland of the Los Angeles-Owens River Aqueduct and "traitors" within the area who gave in to the city's pressure and sold out to Mulholland's agents.

Stories, editorials, cartoons - all filled the columns of the Register as the fight continued, but a different kind of story, reports not about the present and future but about the past - began to appear in 1904.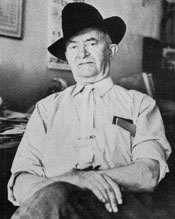 Chalfant had become concerned about preservation of Inyo County's history before the 1870s when written records began to be kept, and he became the self appointed chronicler of the county's robust pioneer years, interviewing those who had been part of its turbulent history and searching newspaper files, official government reports, survey field notes, state legislative journals, county government records, personal archives and books for confirmation and amplification of those accounts.

Chalfant's research was the basis of stories and columns in his paper until the week of his death. They began appearing in book form in 1921 with The Story of Inyo.

The Story of Inyo was followed by Outposts of Civilization in 1928; Death Valley, The Facts in 1930; Tales of the Pioneers in 1942 and Gold, Guns and Ghost towns in 1947.

Chalfant was a familiar and respected figure in Bishop, his paper admired for its sound judgment and courageous opinions. A quiet, even reserved man, he thought his job was to report public affairs, not participate in them. He had firm opinions on many subjects, but those he expressed in editorial columns, not in public forums.

Even when he sold the paper in 1942, he continued both on the masthead and in the editorial office. To honor him, the new owners took the name of Chalfant Press for their three papers.

The Chalfants' name lives in other monuments to their contribution to Inyo County. Chalfant Valley in the shadow of the 13,000-foot White Mountain Range is famous for its Indian petroglyphs.

Summing up Chalfant's 56-year career, John B. Long, manager of the California Newspaper Publishers Association, said, "Angels Camp had its Mark Twain, the Valley of the Moon its Jack London, San Francisco its Bret Harte, and Owens Valley its Bill Chalfant."

[Article from the January 1992 issue of The Album]