| | |
| --- | --- |
| | Bishop - 3 |

All pictures and text on this page from the October 1991 issue of "The Album" by Jane Fisher
unless otherwise note.
Thanks to Rich McCutchan for loaning me his copies of "The Album"

See USE NOTICE on Home Page.



The infamous Watterson Bank
The Inyo County Bank stood on the northwest corner of Main and Academy Streets. Across the street was the "Watterson Hardware Store. The hard-tired, all purpose pickup truck was used by merchants all over town for many years. Here the Hardware Store is preparing to deliver sacks of coal to its many customers who used coal rather than the expensive wood for their stoves.
[photo - Ernie Kinney Collection]



As I Saw It
(Sam Newlan: An Owens Valley Life)
by Iri Newlan



Looking south on Main Street at the Hotel Istalia in 1926. A couple of years after this photo was taken, the hotel was destroyed by fire. The space is now occupied by a Von's market.

[Ernie Kinney Collection photo]

The First National Bank building on the corner of Main and East Line streets. The store in the center, to the right of the sports runabout racer, became Detrick Drugstore. To the far left of the two Indian ladies on the curb is the new post office.

[Ernie Kinney Collection photo]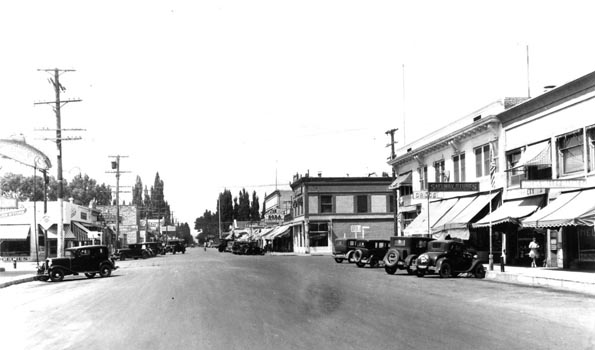 Bishop - Circa 1920s






Roscoe Fatty Arbuckle making the first feature film (

The Round Up

)

in Lone Pine just north of the Dow Villa Hotel on the El Camino Sierra - 1920

(Photo and text courtesy of Page Williams)

This boy (born in 1920) posed as a cinematographer on his father's ranch though he preferred riding horses and hanging out with the cowboys in Long Valley. He came back years lagter as a physician reading x-rays and delivering babies in Mammoth, Crowley, Bishop, Lone Pine, and Tonapah. His first month in family practice he delivered 30 babies. Later he was the Inyo Mono County Health Officer.

(Text and Photo courtesy of Hal Eaton)

Owens River Canal Company Stock Certificate

(Photo courtesy of Hal Eaton)

Wilshire Bishop Creek Company Stock Certificate

Inyo County's huge mining legacy left behind a sizable paper trail for both famous and forgotten mines, including the well-known Wilshire Bishop Creek gold mine, which was taken over by the Cardinal Gold Mining Company in 1933. The property consisted of 34 claims and was on the east slope of the Sierra Nevada, on the middle fork of Bishop Creek at an elevation of 8500 feet. Production as of 1937 was $1.57M and employed 105 men. Underground workings totaled over 4000 feet. The lowest level was 900 feet below ground. (Text courtesy of Inyo County Sesquincentennial)

(Photo courtesy of Irv Dierdorff)

Heading back up to Long Valley though, though running late. In the end Fred Eaton was right about the dam not leaking, and Mulholland well that is another story. The old engineer's saying "you pay me now, or you pay me later--but it will cost a whole lot more." Our grandfather, Harold, the secret agent in the Owens Valley got his cattle ranch, never went back to complete one semester for his Stanford engineering degree, living his life as a cattleman and developer in the Eastern Sierra. His foresight in land and water rights enabled not only the modern City of Los Angeles but also helped his descendants to go to Stanford and the UCs and grow-up in the Eastern Sierra.

(Text and Photo courtesy of Hal Eaton)

American Legion 40 and 8 train of Bishop, CA.

The "train" used to be parked behind GF Bulpitt Part. It was used in parades and at special times like Christmas to take kids out to the airport to see Santa, It was driven like a regular engine on roads.

Voiture is the French word for car.

(Inyo County sesquicentennial photo)

(Text courtesy of Diane WIlliams )

Matchbook covers courtesy of Rich McCutchan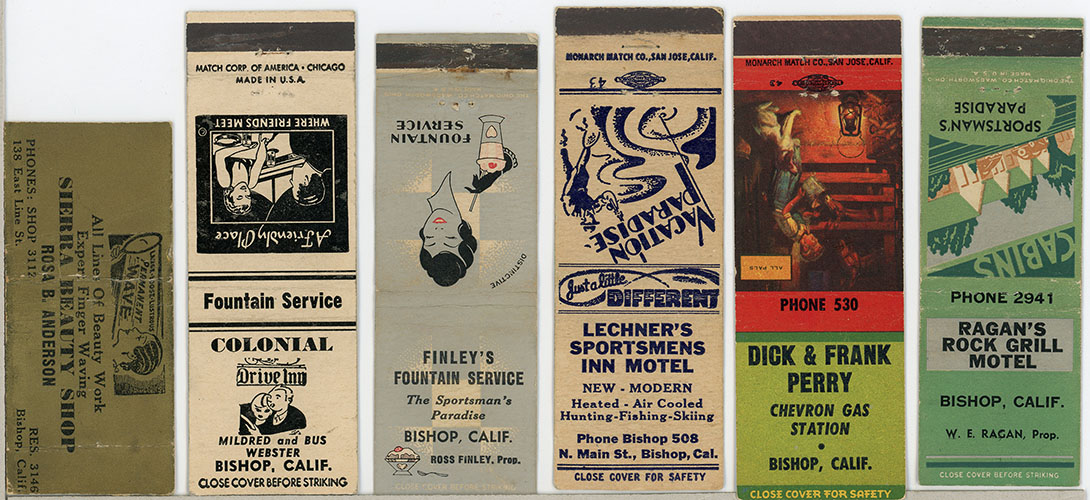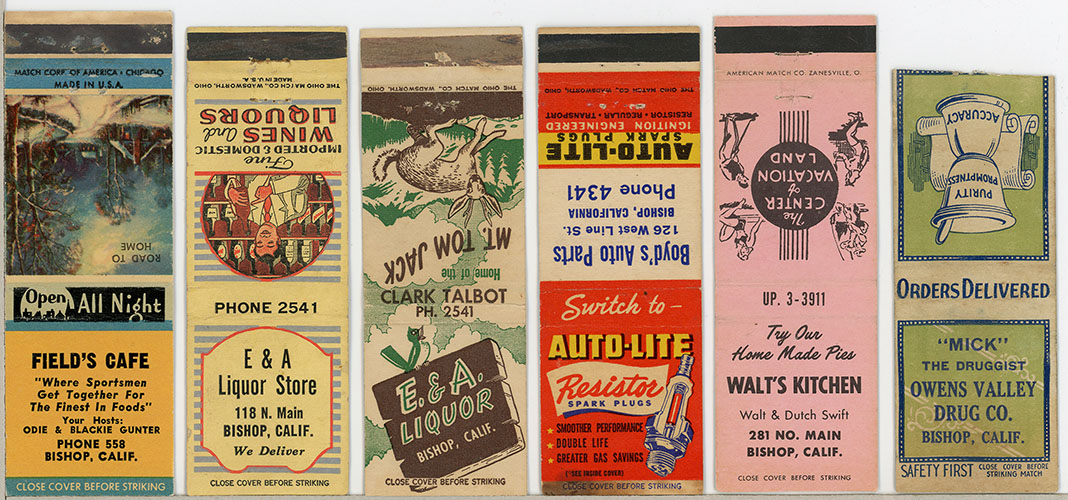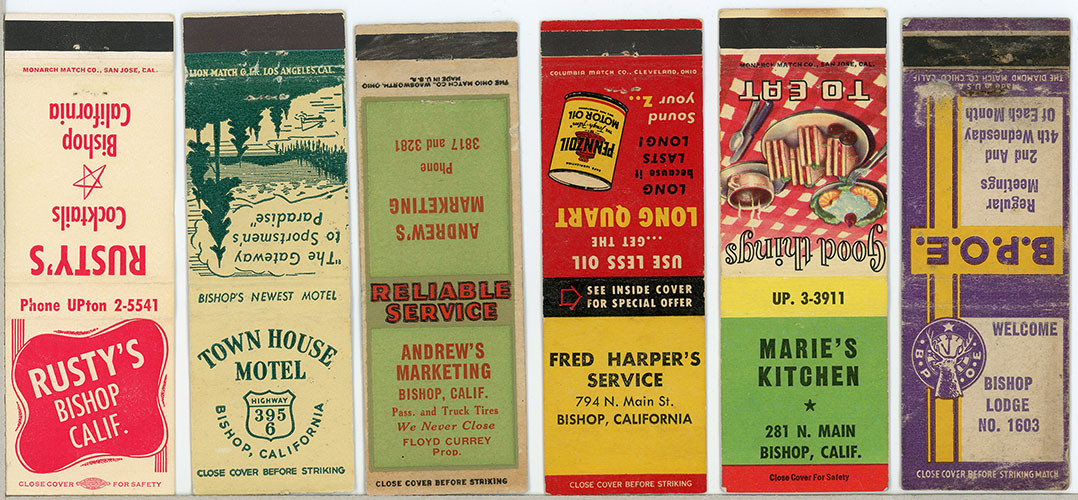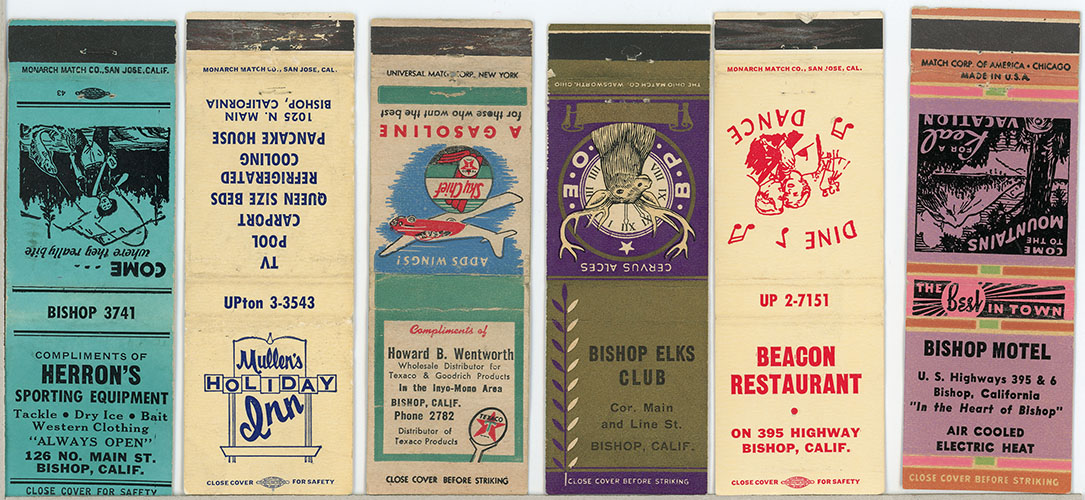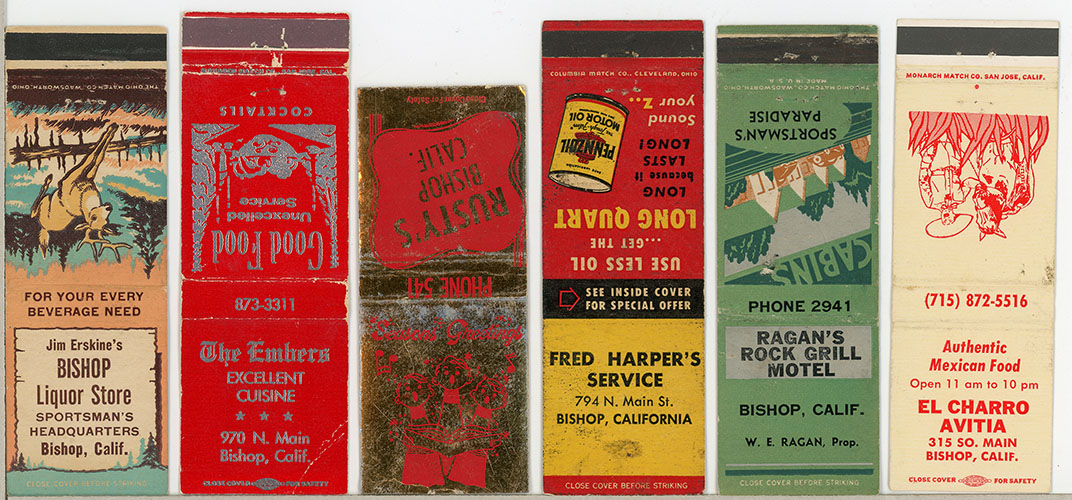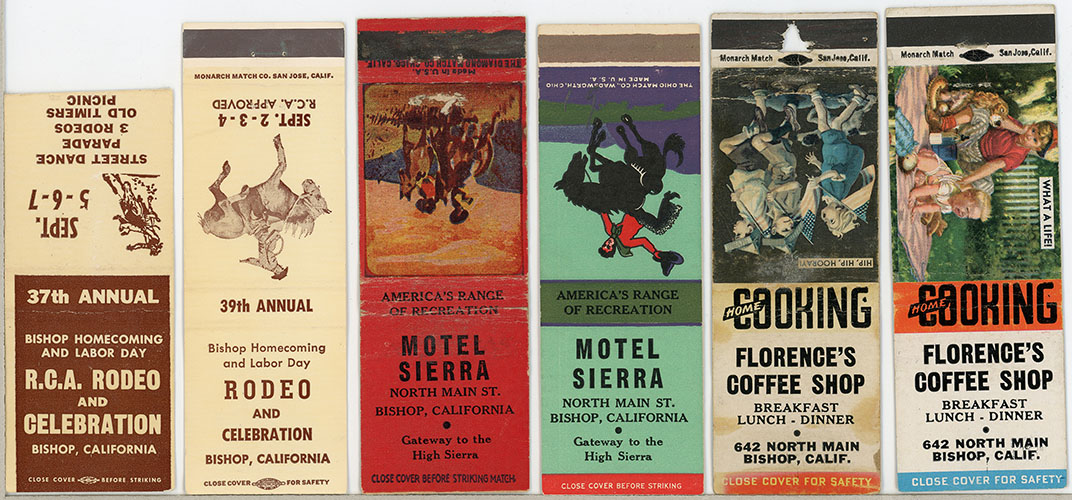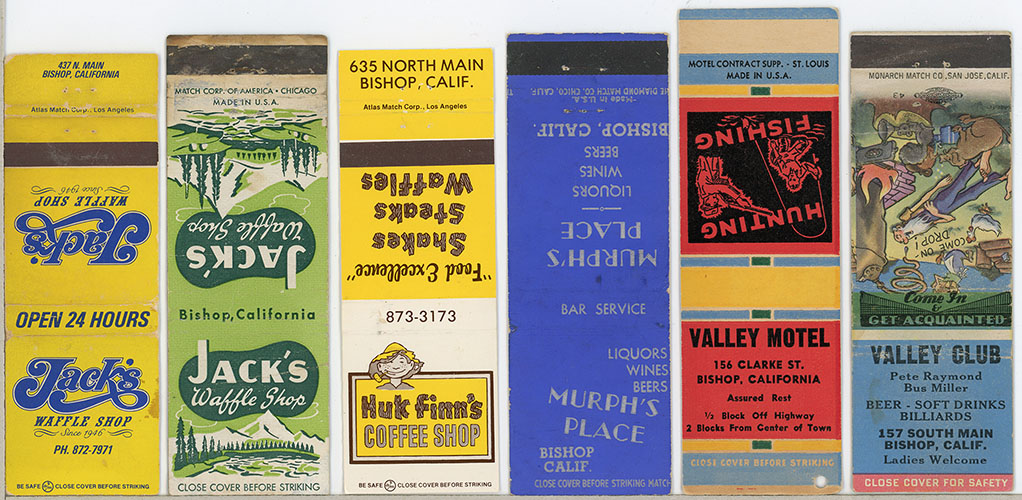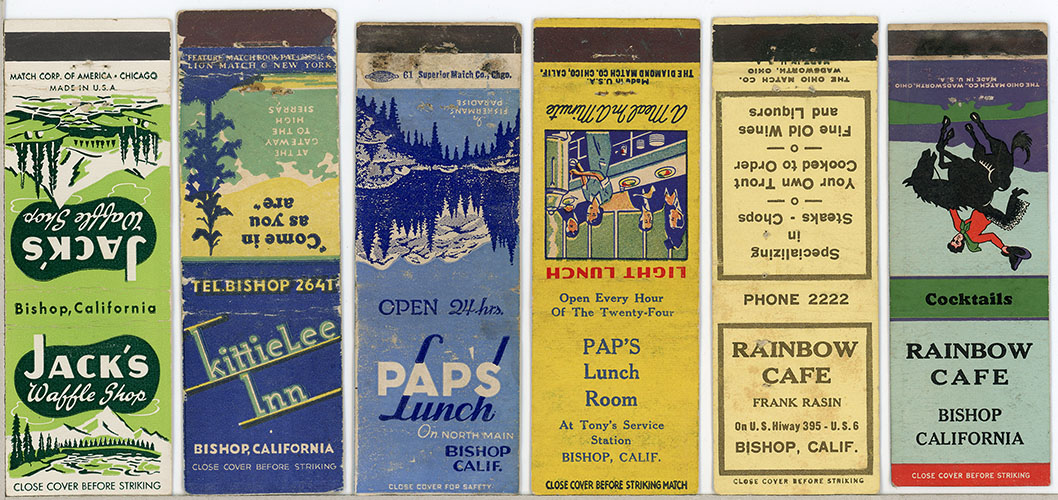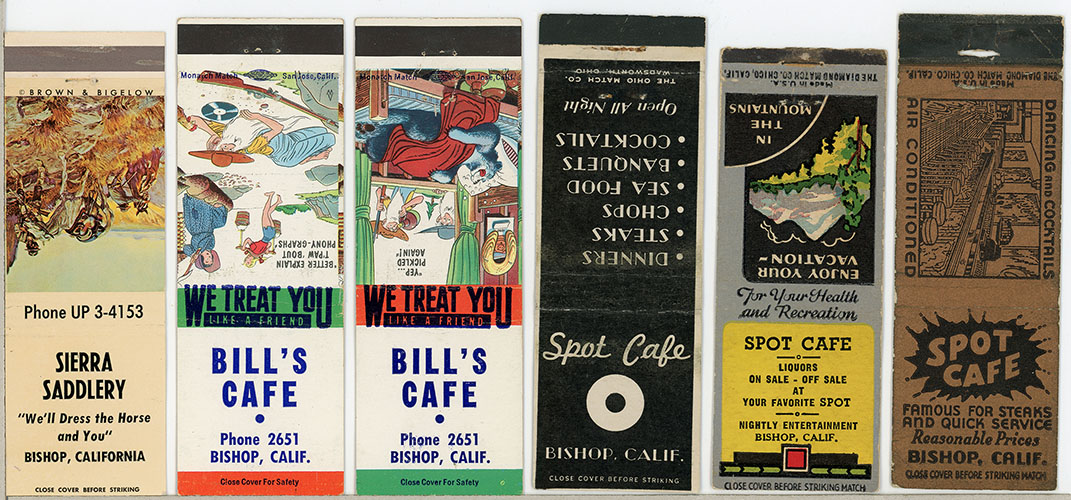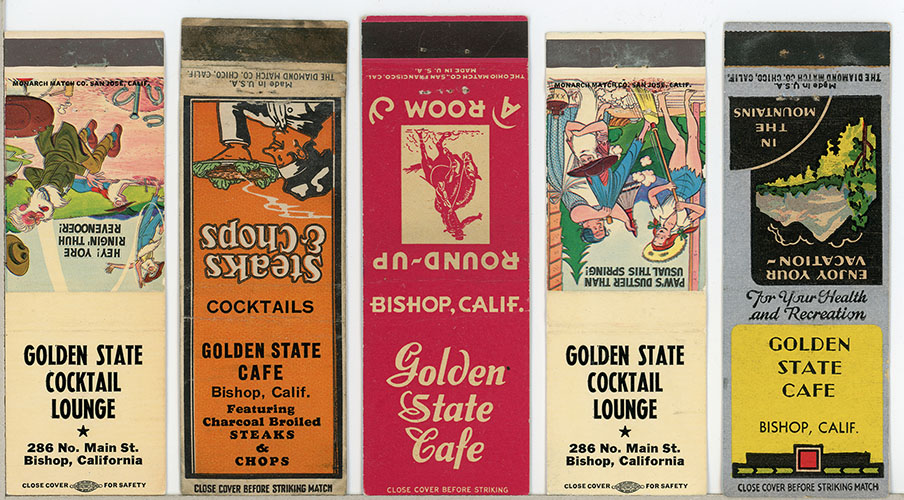 Photocards courtesy of Rich McCutchan

1914 Carnival - Bishop, CA
Identification of band members.

Offerings Gleened off of Ebay