Lone Pine - Misc.
including
Lone Pine in the Winter
All photo cards on this page courtesy of Rich McCutchan archives unless otherwise noted.

See USE NOTICE on Home Page


09/21

Photos courtesy of the Digital Public Library of America
Celebrations on the completion of the trail to the summit of Mt. Whitney in 1930

Riders on their way to the summit of the newly compete Mt. Whitney trail.

Col. John R. White with Supt. of Inyo National Forest (on left)
| | |
| --- | --- |
| | |
| | |
| | |
| | |
| | |
| | L/R: NPS Groups, Director Albright, John Diehl, Engineer, Col. White, Supt., Foreman F.E. Banks, Supervisor Roy Boothe, Inyo N.F., CHief Enginer Kittredge on the summit of Mt. Whitney |
| | Col. John R. White with Supt. of Inyo National Fores on the summit of Mt. Whitney |
| | |
| | |


L/R: Lee Summer, Dorothy Summers, Arch Mahan, Clyde Pearson - Eastern High Sierra Packers' Association

Jen Roeser writes: Lee owned Mammoth Lakes pack outfit. Arch owned Reds Meadow. This is likely one of the Sports Shows. The Inyo Mono Sport Show Committee (which Blake Jones is known to have launched) worked with the Eastern High Sierra Packers association (which as you know was launched by Ike Livermore) to take large booths to a few annual Sports and Vacation shows in Northern and Southern California. The booths represented both Counties, were mostly staffed by packers and other business owners in the Eastern Sierra. We took brochures from 100's of businesses and until the early '90's took a horse and a mule to demonstrate packing and draw interest. It is an amazing part of the Eastern Sierra Story. Started sometime in the late '40's or early '50's I think.

During a lull in the shooting of Warner Brothers production,

Springfield Rifle

, part of the cast and crew are entertained by Fess Parker, one of the actors. Seen here are Cinematographer Ed DuFar, star Gary Cooper, Director Andre DeToth and Parker. Sitting on a rock in the background is featured player Lon Chaney.

Another of my all time classic movies filmed in the Owens Valley Desert east of Lone Pine. 1955's "Bad Day at Black Rock." This is, I think, the only time a train featuring the SP broad gauge was filmed in the area.

Featured in the photo are Anne Francis and John Ericson strolling along the streets of an entire town built entirely for the production of this film

Stars included Spencer Tracy, Robert Ryan, Anne Francis, Dean Jagger, Walter Brennan, John Erickson, Ernest Borgnine, Lee Marvin, Russell Collins and Walter Sande. What an awesome cast.

Lone Pine Lumber - Owned by the Henderson Family

Read the

SAWDUST

magazine published by Lone Pine Lumber

Scenes from 1951's "Rawhide." With Tyrone Power - Susan Hayward

Alabama Hills movie set. Clarice Murphy (as a girl of the Andes) takes a sunbath -

06-06-1947

The movie set site

TODAY

.

"Tycoon" - starring John Wayne, Laraine Day, Cedric Hardwicke, Judith Anderson, James Gleason, Anthony Quinn, Grant Withers, Paul Fix and a host of others including Clarice Murphy.

Square Deal Garage - Lone Pine, CA

Hikers climbing up a snow-covered chute on their way to the summit of Mt. Whitney.


01/21


Photos courtesy of Rick Olson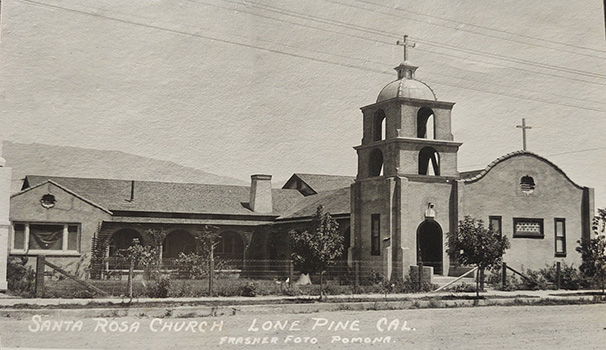 Santa Rosa Church when it was on Main Street - Lone Pine, CA


01/21




07/21

Lone Pine Pioneer Cemetery
(Photos courtesy of Ray DeLea)

Lone Pine Pioneer Cemetery - circa 1900

(Photo courtesy of

USC Libraries Special Collections

)


08/21

| | |
| --- | --- |
| | Racket Busters - 1938 |
| I am the Law - 1938 | Penrod's Double Trouble - 1938 |
| | |
| | |
| | |


08/21




08/23





The Following Were Posted by Various People on Facebook in January/February of 2023