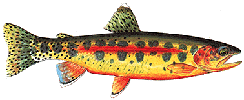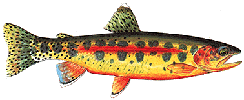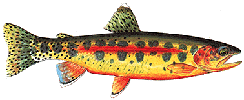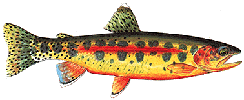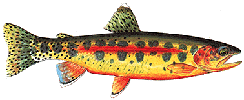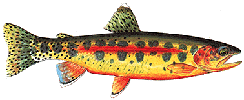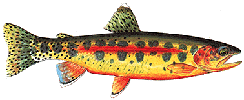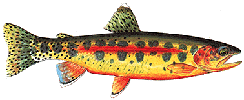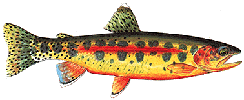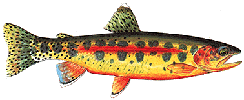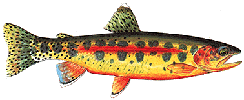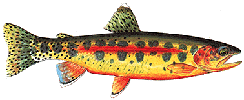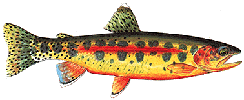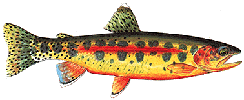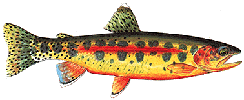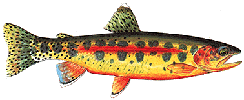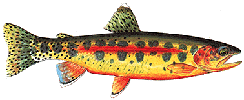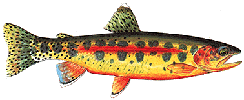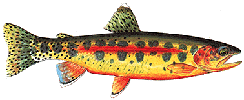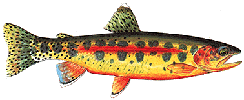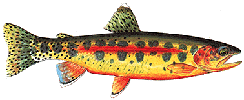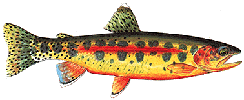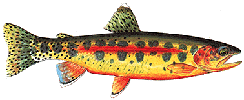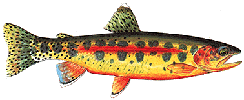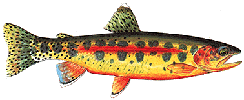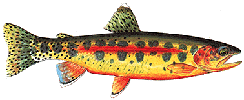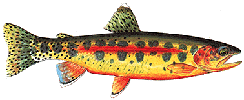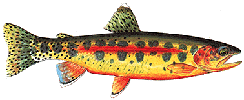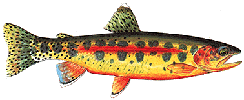 Note to viewers: Golden Trout Camp is owned and operated by the Thacher School of Ojai, CA.
For reservation information please contact the school at: http://www.thacher.org/home.cgi
Golden Trout Camp brochure courtesy of Rich McCutchan
See USE NOTICE on Home Page.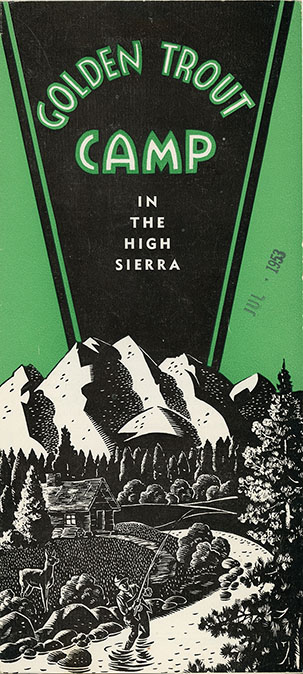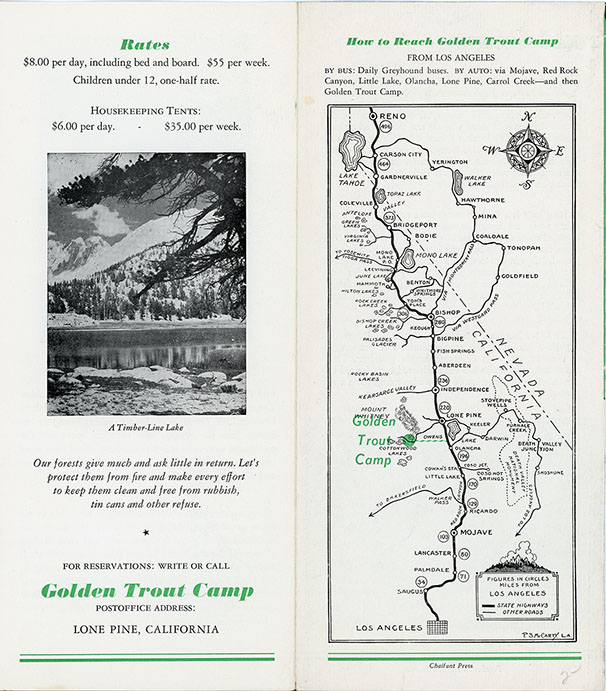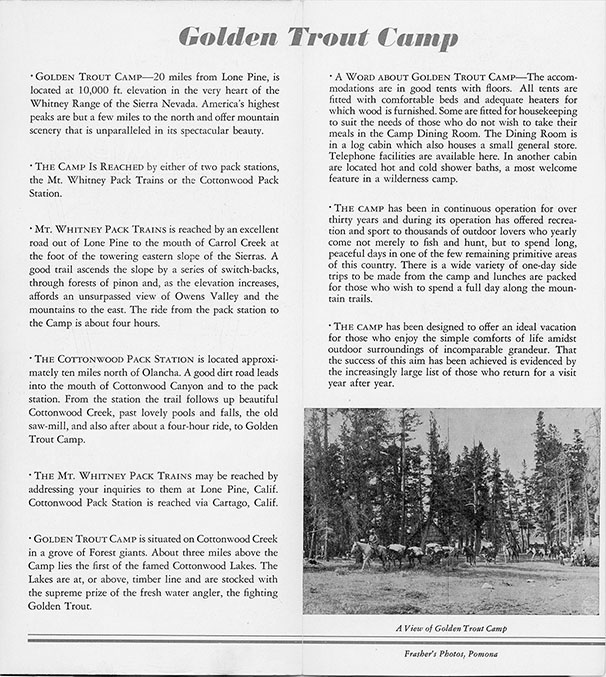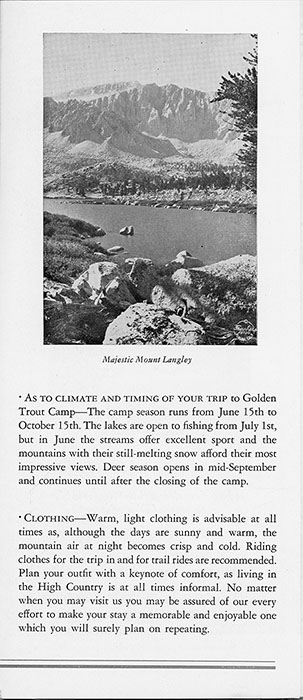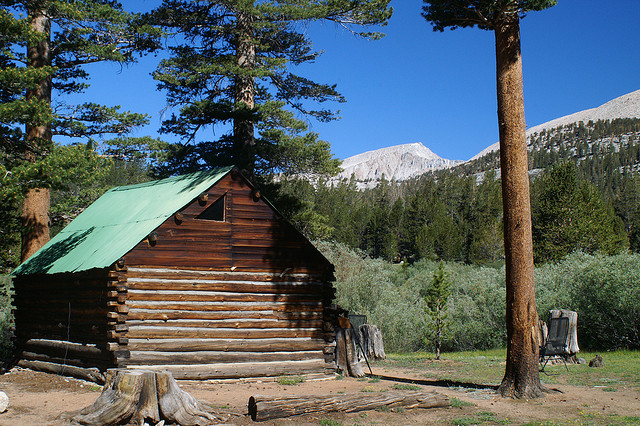 Golden Trout Camp on Cottonwood Creek

The Golden Trout of Cottonwood Lakes
by Fred Koch

Don Andrews of Monrovia, CA writes.
Ray,

Thank you for bringing back such great memories of Golden Trout Camp. My uncle, John (Bud) O'Keefe purchased the camp from Mr. Towler in 1949 and he and my dad ran it for the first season, after which my uncle and aunt (Emma Jean) continued to own and operate it until they sold to the present owners [Thacher School]. I spent many summers working at the camp and tending the many head of stock always present for the numerous guests. I surely remember the brochure! I've probably seen hundreds of them over the years. What stories I could tell of the many hair-raising adventures us kids(my sister & two cousins)had during those years. How sad the the fate of the sawmill, always considered a welcome half-way mark during that long 4 hour horseback ride. And the accompaning switchbacks on the trail! I have witnessed whole pack trains go over the side when a packer failed to consider the proper order in which to put the mules. Oh, the stories and memories! Thank you for bringing a little of it back to this 58 year-old nostalgic.

Don Andrews (November 2001)
Dwight Sigworth of Tigard, OR writes.
Ray,

My Grandfather, Dr. Dwight Sigworth, started coming to Golden Trout Camp in 1933 when the Towler's owned GTC and Chrysler and Cook ran the old pack station. He came almost every year after that until 1966 (except during WWII). I got to come with him as a guest when I was 11 and again in the summer when I was 14. I got to work there with John and Emma Jean O'Keefe. It is one of the high points in my life.

I remember the unspoiled country with a tough 10-mile trail from civilization. We were almost always the only people on the lake and my Grandfather knew every fishing hole, so we always caught lots of native fish. My favorite lakes were Cottonwood Lake #4 and Chicken Springs Lake.

About five years ago I took two of my children up and we camped just below Cottonwood Lake #1. It was fun to see things, but the road so close and the resulting restrictions to access are a shame. I understand, but it is a shame.

I would love to find two people who worked with me in 1963 at GTC. They are Kathy O'Keefe, the O'Keefe's daughter and Bob Alward. A lot has happened to all of us in 40 years.

Dwight Sigworth (March 2004)

Ray,

I know of no other species of trout that has more color variation than the golden trout. As you can see from this photo, the fish from this stream are as gold as something you could buy in a pet store. In some streams the fish are multicolored, and I've seen them red, yellow, and even light blue. Now I've never read an accurate account of the tunnel and how the area got its name. The one man that I talked to that seemed to know about it was pretty windy, western shootout and the whole deal. None the less, the golden trout creek was diverted into the south fork of the Kern. The evidence is still there.

I always thought that fish may have come from the south fork into the golden trout, causing the coloration variety in the area. Then, I met a man by the name of Bob Smith. Bob had worked for the Fish and Wildlife for forty-seven years as a pilot. After he retired, his hobby was catching trout in their native waters. He'd been all over the world fishing, and the golden trout brought him to the Kern Plateau. I would take him to different streams to fish every day or so. When we would get back to camp, he would go down to the south fork, catch a trout, and lay them side by side. Bob could point out differences in, not only in color, but also physical characteristics of the trout from different streams. I asked him what caused the variation, and if he thought that they had been contaminated by the water diversion. He didn't think so, he thought it was caused by the volcanos in the area, which had separated the flows of the streams for millions of years, causing the fish to evolve independently from each other. Besides Bob's love of fishing, he loved Rossi's spaghetti and fresh fried trout. He is one of the most interesting men I've ever had the pleasure of meeting and fishing with. Bob and I became very good friends that summer. He invited me to his home in Seattle to do some fishing, naturally I lost his phone number.

If you've got a hundred years to spare, try to find one Bob Smith in the Seattle phone book. More about Bob later.

Duane Rossi
July 2017

"A Trip to God's Country"
by E. J. O'Keefe
(Courtesy of Irma Cline)



Photocards courtesy of Rich McCutchan




Golden Trout Camp - Anton's Camp




Golden Trout Camp - Anton's Camp

08/21


08/21
Golden Trout Camp Photos Courtesy of Ray DeLea - 2021

11/21

Forest Supervisor Joe Radel and Ranger Emil Keledin talk to John O'Keffe, owner and operator, under special use permit, of Golden Trout Camp on Cottonwood Creek. Mr. O'Keefe wants approval for expansion of his facilities to care for additional guests. July 1958

(Poto courtesy of Hal Eaton)

(U.S. National Archives Photo)

| | | |
| --- | --- | --- |
| | Mt. Whitney Packer's & Owens Valley History Home Page | |
| | More of Golden Trout Camp in the High Sierra | |
| | Mt. Whitney Pack Train's Chrysler & Cook Brochure | |
| | Frank Chrysler & Ted Cook's Mt. Whitney Pack Trains | |


Sign Guestbook

View Old Guest Book Entries
Oct 1999 - Feb 2015 (MS Word)



CONTACT the Pigmy Packer



View Guestbook

View Old Guest Book Entries
Oct 1999 - Feb 2015 (PDF)

This page was last updated on 16 November 2021