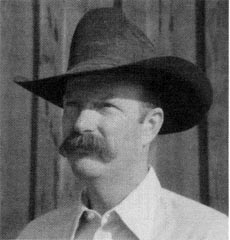 Ed Brown: Mt. Whitney Pack Trains Packer and Cowboy Poet




Cowboy Poetry by Ed Brown





A GRISLY TALE, OR THE BELOW ZERO HERO

It was in the winter of eighty-nine
A year that's frozen in my mind.
When my frail life was snatched from the jaws of death.
I was up high near the mountain peaks
Been running trap line for six weeks
So cold that you could see and touch yer Breath.

I had a good cabin to spend the nights
Complete with stove and white gas lights
And beans and flour and bacon to see me through.
One day the sun was overhead
And I crawled out of my warm fur bed
To check the mercury - minus fifty-two!

Now a trapper's got to check his sets
No matter how the weather gets.
So I threw on all the clothing I could find
Grabbed my muzzle loader and my powder horn
And I set out on that fateful morn
Not knowing I'd left my bullet pouch behind.

The sky was clear as British gin
Without a single breath of wind.
I threw my heavy knapsack on my shoulder.
As I commenced my pursuit of fur
I glanced at that thermometer
I don't know how but it was getting colder .

Now trapping is both luck and skill
I checked them one by one until
I'd travelled way up high in timber black
Crouched down examining one set.
I had this eerie feeling that
Somebody - or something was at my back.

This Boone and Crockett grizzly bear
About eight feet of teeth and hair
Was raring up much higher than my head.
I quickly figured what he's doin'
And even though his meal I'd ruin
It was time to fill Ol' Bruin full of lead.

I stared into his hungry eyes
You can't imagine my surprise
As I groped for the bullet pouch that wasn't there.
Of course I had my Bowie knife
A weapon suited to take a life
But should I stab myself or that damn bear?

My forehead broke into a sweat
Of shiny beads, salty and wet
And I had a sickening feeling in my gullet.
Then the Artic air caused me to smile
For there weren't no puddle, but a pile
Of AMMUNITION - I was sweating bullets!

So I rammed a load of powder in
Then those ice bullets, eight or ten
And I aimed Ol' Betsy twixt the grizzly's eyes.
I'd barely pulled the hammer back
When he decided to attack
You can't imagine each of our surprise.

'Cuz when the hammer hit the cap
That bear began his winter nap.
Now the scientific part I will explain
When it gets past fifty below
Ain't nothing; hard as H2O -
O'l Grizzly died of water on the brain!



That cowboys are all dead and gone
Is commonly repeated
By folks who never saw a cow
'Cept maybe when they eat it.

Technology has reached the stage
These folks are prone to say
That there no longer is a need
For men who ride for pay.

Helicopters, jeeps, and three-wheelers
These fellers say, of course
Are simply more efficient than
The cowboy and his horse.

These well-intentioned experts
I'm sure are quite sincere.
I'm just glad I'm not helping out
With their Yamaha rodear.

We heard of a place called Cuyama
That held an old-time rodeo.
So we shined up our old Tony Lamas,
And decided we just had to go.

It said it was held in the open;
That they snubbed broncs and roped brandin' style.
So we mailed in our entries a hopin'
To get off the ranch for a while.

Well we got there a way after midnight,
Parked our camper and commenced to snore.
When we opened the curtains at daylight
Our view was a green outhouse door

Now this outhouse had no kind of hitchrack
And was obviously occupied
'Cuz there stood an old horse with a swayback
Being held by the reins from inside.

Sure enough something spooked the old cayuse,
And he just might have run off before,
'Cuz this good lookin' gal never let loose
And the nag yanked her plumb out the door

You probably think this was rotten
But the whole thing just happened by chance,
And would most likely all be forgotten
If she'd had time to pull up her pants.

THAT FOG ALONG THE OLD SAN JOAQUIN

I've been places where it's cold
Where the wind and snow have blowed
Where January gets to be plumb mean.
This may sound a trifle bold
But I've never been as cold
As in that fog along the old San Joaquin.

You're tryin' to move a bunch of steers
And you can't see your horses ears
Yet you now the grass beneath your feet is green.
It could be colder, heaven knows
But it crawls in right through your clothes
That fog along the old San Joaquin.

You can't remember havin' feet
It's hard to keep your moustache neat
And it can make a truly funny scene;
When frozen fingers numbly try
To negotiate a button fly
In that fog along the old San Joaquin.

In a field you've rode a hundred times
It makes you think you've lost your mind
There's not a single landmark to be seen.
You wander slightly back and forth
And find the south gate just moved north
In that fog along the old San Joaquin.

You wonder how you can survive
And make it through 'til spring arrives
And sort of let your old mind drift and dream;
Of summer when its so danged hot
That by July you have forgot
That fog along the old San Joaquin.