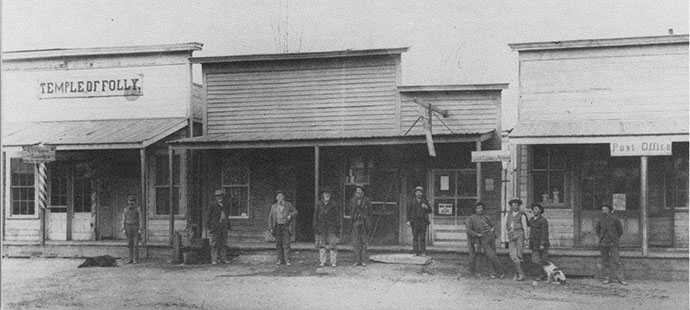 The Temple of Folly - Bishop, CA
This was long thought to be a photograph of the old boom town, Mammoth City, largely because the name checks with an 1879 Mammoth City TImes. There the Temple of Folly advertises its Rock & Rye as "the new remedy for coughs, colds, etc."
However, during 1975, two Bishop history buffs have helped uncover an extraordinary coincidence. Elma Crosby has evidence that after A.J. Murphy lived at Mommoth, he opened another Temple of Folly in Bishop, which there was commonly known as "murphys." Then Gus Cashbaugh pinned won this photo beyond all doubt as the first block of North Main Street, when he identified the town pump at the right corner of Murphys ad the striped poles of Jake Koch's barber shop in the front, all of which he remembers as a small boy in the 1890's. Alas, this leaves us with no photo at all of the old mining camp of Mammoth.
Photo courtesy of the Eastern California Museum, gift of Herbert DeChambeau.
1975 Adele Reed, Genny Smith