| | |
| --- | --- |
| | Bishop - 6 |
All early Bishop photos and photocards courtesy of Rich McCutchan
unless otherwise noted

See USE NOTICE on Home Page.

Bishop - Circa 1912

Bishop - Circa 1924

Melinda's Pack Train, Bishop Creek, Bishop, CA - early 1880's

Owens Valley and the Paiutes and Shoshones who lived there remained undisturbed for over 300 years after Cabrillo discovered California in 1542. The massive Sierra was an effective barricade between the Valley and Spaish missions and ranchos to the west Even the Gold Rush passed it by. But the discovery of silver at the Comstock Lode in 1859 sparked a new rush that changed the Valley forever. Hundreds raced across the Sierra to prospect its eastern slope and the desert ranges beyond. Right behind came the packers, teamsters, cattlemen, merchants, and farmers to supply them.

Melinda's Pack train stands in front of the Frank andrews general store on the east side of North Main Street. Left, Dutch John's "Blacksmithing and Wagonmaking." Pack trains were long a familiar sight in Valley towns, for much of the bordering country is too rough and steep for wagons.

Laws Railroad Museum Photo

1975 Genny Smith

Bishop CreekHarvest Festival , Bishop, CA - about 1886

In 1859 L.R. Ketcham of Visalia drove the first cattle into Owens Valley, hoping to sell them at the Mono Diggings. Others drove stock through the Valley headed for the Nevada boom town of Aurora. During the terrible California drought of 1862 - 1864, a few stockmen brought their starving herds to the Valley's grasslands. Some of those passing through decided Owens Valley was a good place to settle. The word spread to others; land for the asking, streams brimming with water, boom towns begging for supplies.

This photo may be on of the early Harvest Festivals, readying the horses for the parade down Main Street. Owens Valley was noted for fine horses - work horses, race horses, driving, trotting, pack, and saddle horses.

Eastern California Museum photo.

1975 Genny Smith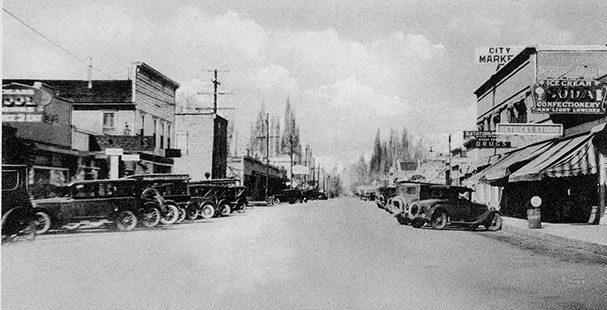 Main Street Bishop, CA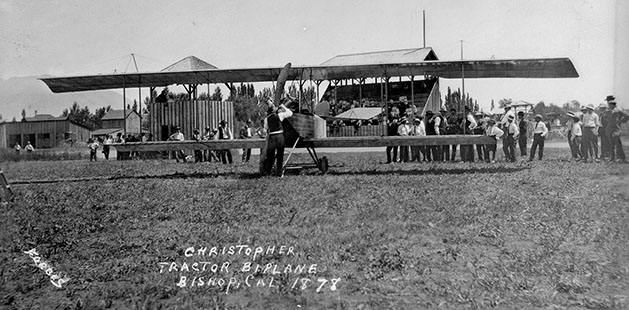 Christopher Tractor Biplane - Bishop, CA - Circa 1914
THEIR FLYING MACHINES
Silas Christofferson's 1914 three-place tractor biplane being "tuned up" near Lone Pine, Inyo County, California, in preparation for his historic flight over Mount Whitney (elev: 14,494'). Powered by a 100 h.p. Hall-Scott motor with a cruise speed of +60 mph, the 1914 had a span of 39 ft and was fitted with distinctive tricycle gear. Starting from the Owens Valley, and carrying a camera to capture a few aerial snap-shots, Christofferson crossed the highest point in the lower 48 states at an altitude of roughly 16,000 ft (4877 m) on 25 June 1914. According to some sources the flight had set the world's altitude record - however doubtful considering feats achieved by European aviators of the day. Nevertheless, the "official" American altitude record was set later that summer in Overland Park, Kansas, when on 6 August, Pennsylvania native DeLloyd Thompson flew his Gyro 80 tractor motor Day aeroplane to a dizzying height of 15,256 ft. Although the only 1914 Tractor produced was unsuccessful at the 1914 San Diego military trials, the Christofferson Aircraft Mfg. Co. 1915 Tractor, a V-8 Sturtevant-powered, 47 ft span biplane, based on the Christofferson 1914, prompted orders from the Mexican constitutionalist armies. Quantities delivered are uncertain, but it is recorded that several Christofferson biplanes were in the inventory of the Flotilla Aerea Constitucionalista, - later formed into the Arma de Aviacion Militar del Ejercito Constitucionalista (05 Feb 1915). Silas Christofferson was killed in flying accident on 31 Oct 1916.

Above photo and text courtesy of
Their Flying Machines

| | |
| --- | --- |
| Inyo County Fair - Bishop, CA - Circa 1908 | |
| | |
| | |
| | |
| | |
| | |
| | |
| | |
| | |
| | |


03/21




| | |
| --- | --- |
| Mt. Tom and West Bishop Road - Bishop, CA | Bishop, CA |
| | |
| | |
| | |
| | |
| | |
| | |
| | |
| | |
| | |

Cartoon by

Jack Foley

in 1947 - Bishop, CA

Jack was the person behind the ame "Foley Artist" in sound movie making.

(Clipping and text courtesy of Hal Eaton)

In 1902 - 1904 the government was looking at places to spend federal tax dollars to promote growth of small farmers - part of the progressive era in reaction to the "Gilded Age." This is J.B. Lippincott who was in charge of looking at various projects most of which never got funded.

(Clipping and text courtesy of Hal Eaton)


06/21




11/23

Photos courtesy of the Online Archive of California

Academy Avenue, Bishop, CA

Sheep going down the highway in Bishop, CA