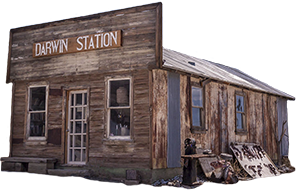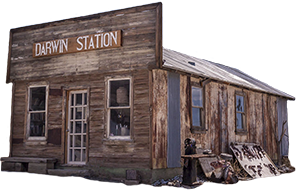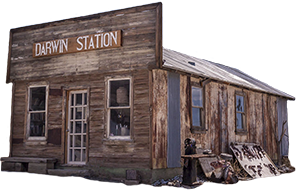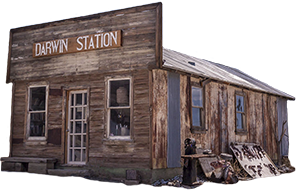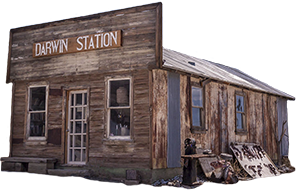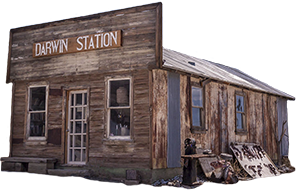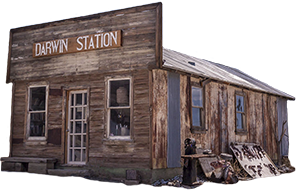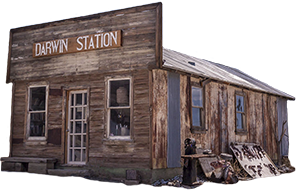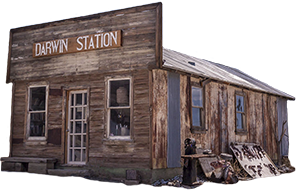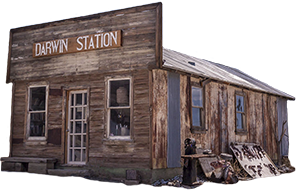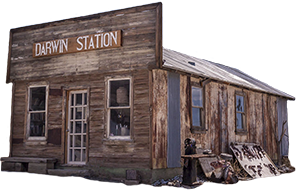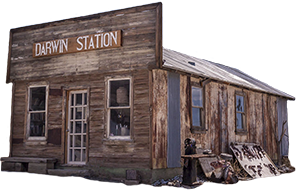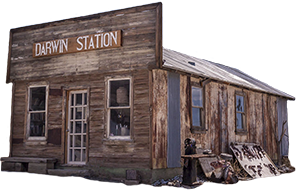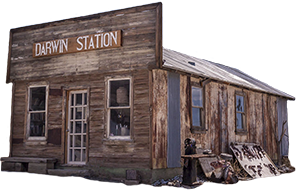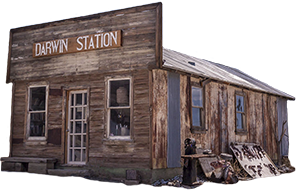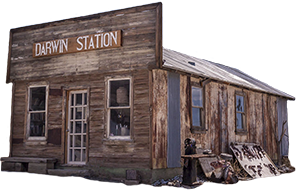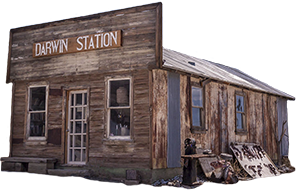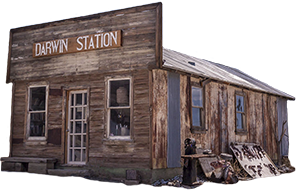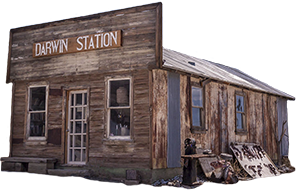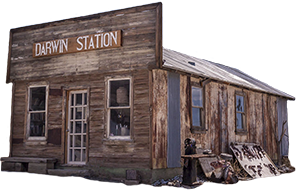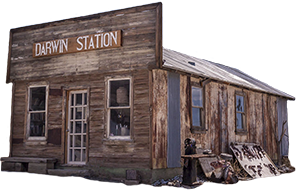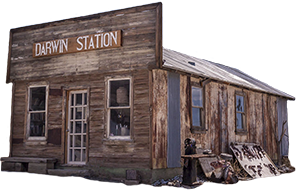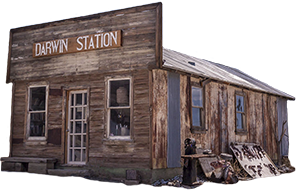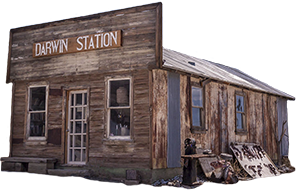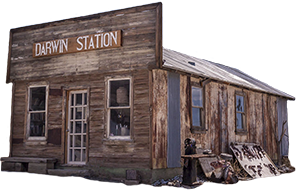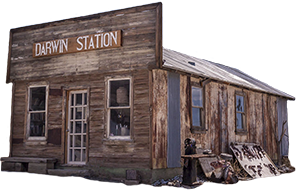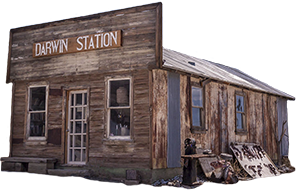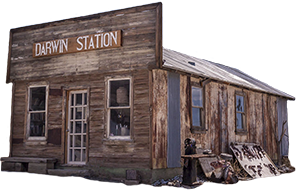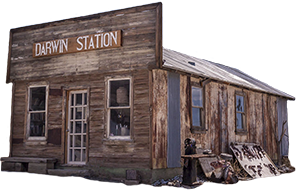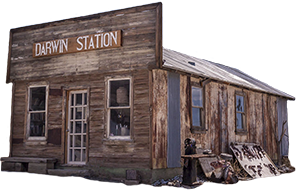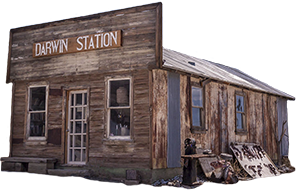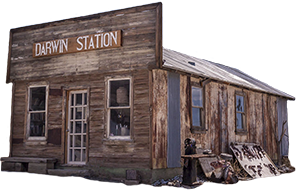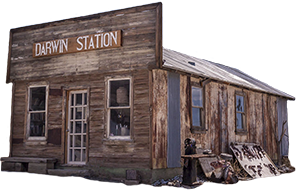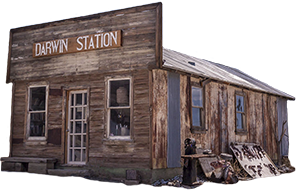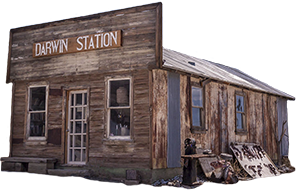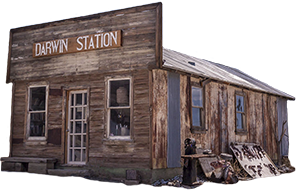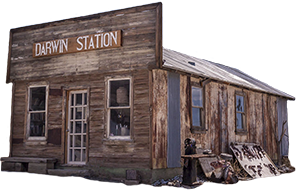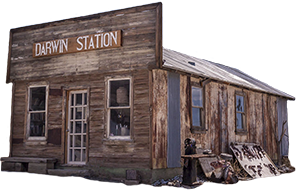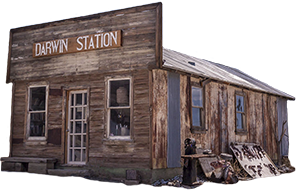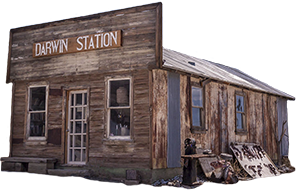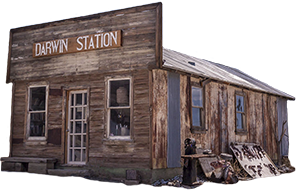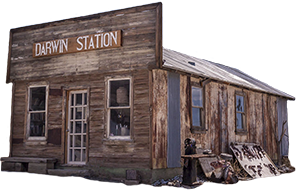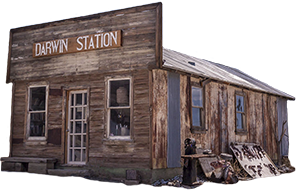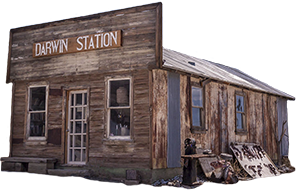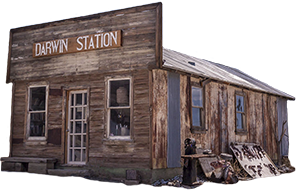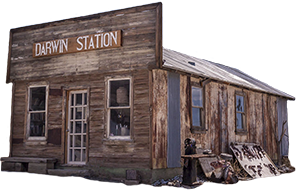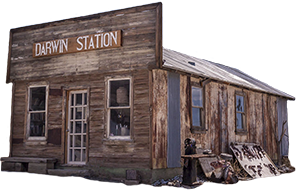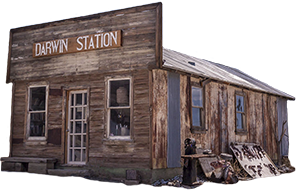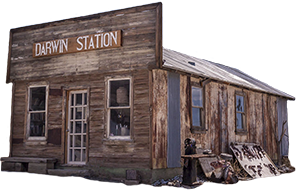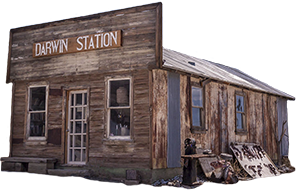 "Gas Pump, Darwin, 1979"
[Photo courtesy of Lynn Radeka]
[Radeka Photography]


Placard on the Darwin gas pump.


Darwin Post Office
(Photo courtesy Ray DeLea)


03/21
Darwin: A Place Without a Government
Directed and Produced by Nick Brandestini



Darwin Elementary School Class of 1953
Grades 6, 7, 8
[Photo courtesy of Marlene Cieriak]
Back Row (L to R): Mrs. Ritchie, Georgia Fortney, Bob Foreman, Cherie Tilley, Shirley Kellner, Walter Armstrong

1st Row From Back (L to R): girl, Irene Beaman, Dixie Noviasio, girl

2nd Row From Back (L to R): Grace Fortney, Larry Rock, Neoma, Jim ?, John Dale Butler, ? Rock (girl), George Whitman

Front Row (L to R): Louella, Donna Davis

Here is a photo with all of the students identified

Ray,

Hi, this is Georgia Thompson (Fortney).  I am the girl at the top of the picture where it is listed as me or my sister Judith.
The other girl sitting on the left is my sister Grace Fortney, not Judith.  Just wanted to correct the errors and say thanks
for the blast from the past.  It was really great to see all these pictures from my home town.

Respectifully,
Georgia
July 2015
            

Ray,

Wow, in looking through your site trying to find all the pix of Wendell Gill I even found one of Bob Foreman, at the Darwin Elementary School. He married Lora Thurston...her Mother Christine, called Bunny, was an Olivas, the youngest of the original 10 children. Bob Foreman commited suicide years and years later.

Leilauni Holtz
March 2016

Darwin Photocards Courtesy of Rich McCutchan


11/23
Eichbaum Toll Road Historic Context Report
by Steven Melvin and Bryan Larson




11/23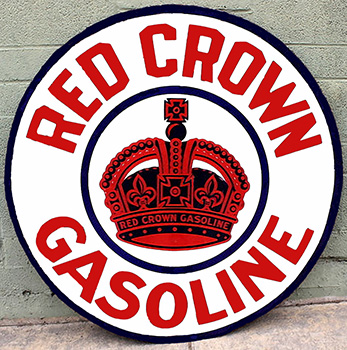 As seen in the above photo of the Toll Road into Owens Valley there is a sign to the right of the entrance. When did Red Crown gasoline start? The company began construction of their vast West Coast network of retail service stations in 1915, the same year they registered a logo for "Red Crown Gasoline" displaying, of course, a red crown.
(Photo and text courtesy of Randy Reb9nBerton)

| | |
| --- | --- |
| Old mining town of Darwin - 1928 | Radiore Haulage Tunnel - Darwin |
| Consildated Camp - Darwin, CA. | Radiore Haulage Tunnel - Darwin |

Nancy Droubay writes:

Ray,

My tenure as a Darwin night was from 1945 to 1954. During that time I roam the desert with my father in an Old World War II surplus Jeep and I am quite familiar with the pump house but not with the gentleman who is described. However, Darwin nights and other people from that area we're not above telling people very large lies about themselves. The pump house around the corner from Darwin served the mine and not the town. There was a very large storage tank up above the mine which stored water for the people who lived on the hill and the mail. When the pump broke down we had to go to Los Angeles to get parts and that meant we were all on water rationing on the hill. The townspeople had whales that were out in the bombing range of inyokern and my father and I used to go out there and check on them every once in awhile but we had to call in your Kern to make sure they weren't doing any practice bombing runs first. 1954 is a very long time before 1990 so I am unfamiliar with what happened in between. My grammar school friend Helen bever Beaman might know more about that as she is part of the small band of Shoshone that own houses in the town of Darwin she still has a property there and I saw her a couple of years ago.

Naancy Droubay,
May 12, 2018

| | |
| --- | --- |
| Lower Darwin Falls - Near Darwin, CA, - 1930 | Shorty Harris - The Outpost, Darwin, CA. |
| Darwin to Death Valley Toll Road | New Year's Eve in Darwin |

| | |
| --- | --- |
| Darwin School House | |
| | |

Cosmopolitan Restaurant and stage stop- Darwin, CA
(Eastern California Museum Photo)

More Darwin Photocards Courtesy of Rich McCutchan

Jeanette Morton in the doorway of our cabin at the Cord Mine
March 1943

Eastern California Museum Photos

Saloon Tokens (circa 1910 - 1916) Courtesy of Craig Mason

The Allies Saloon Token

The Allies Saloon Token

Black Metal Saloon Token

Black Metal Saloon Token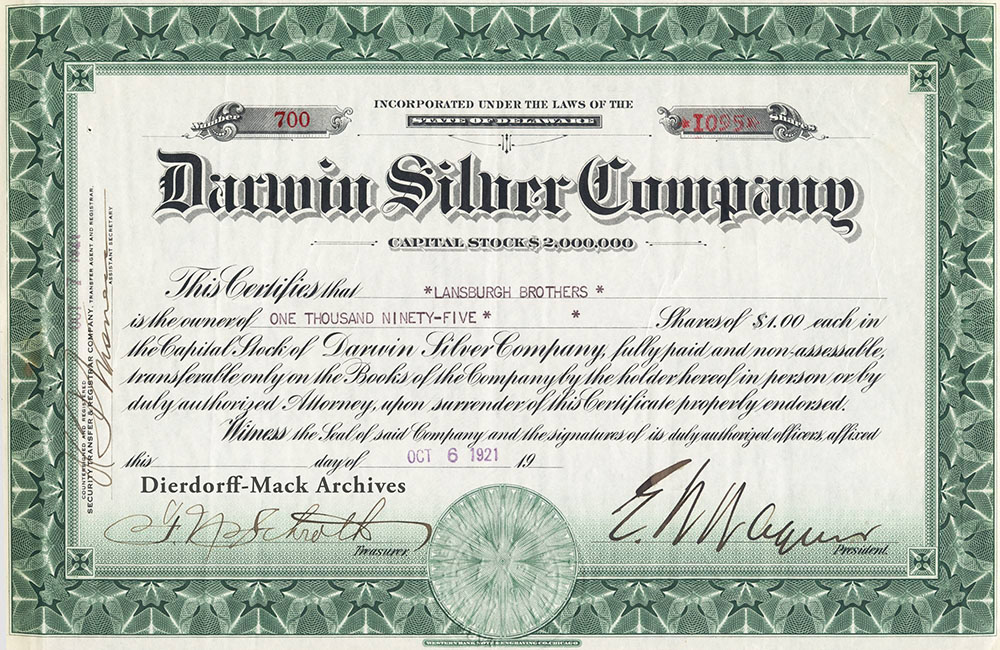 The Darwin Silver Company, a consolidation of Darwin-area mines, was already heading down the tubes by the time this stock certificate was issued. In fact, DSC financier E. W. Wagner (right stock-certificate signature) chose a pistol to the head instead of facing a Mount-Whitney-sized mountain of debt, a few months after signing this stock certificate. Some say the suicide occurred in the large house in the Darwin Mines complex on the hill outside of town. But the certificate says incorporated in Delaware? Mining companies from many states frequently incorporated there because of Delaware's infamously lenient corporate laws. It takes less than an hour to incorporate a company in Delaware.
(Photo & text courtesy Inyo County Sesquicentennial)



Darwin Photocards Courtesy of Rich McCutchan



At work at the Luck of the Irish mine in Darwin, CA - circa 1939
L/R: Carl Hanson (Libby's grandfather), Richard Kemp (Libby's father),
Onie Bergstrom, Jeanne Kemp (Libby's mother)

Darwin Community Club ticket- Printed in 1949 for special events at the Darwin Mines community center on the hill just outside of town. Som Darwin old timers say that these tickets were usually used for movie tickets, screened in the very large quonset-hut theater in the mine compound. Darwin Mines also had a large swimming pool (now empty) for miners and their families, although townsfolk supposedly snuck in sometimes on hot days.

(Photo and text courtesy of Irv Dierdorff)

12/21

Darwin, CA
(Photo courtesy University of Riverside Digital Collectiions)


05/23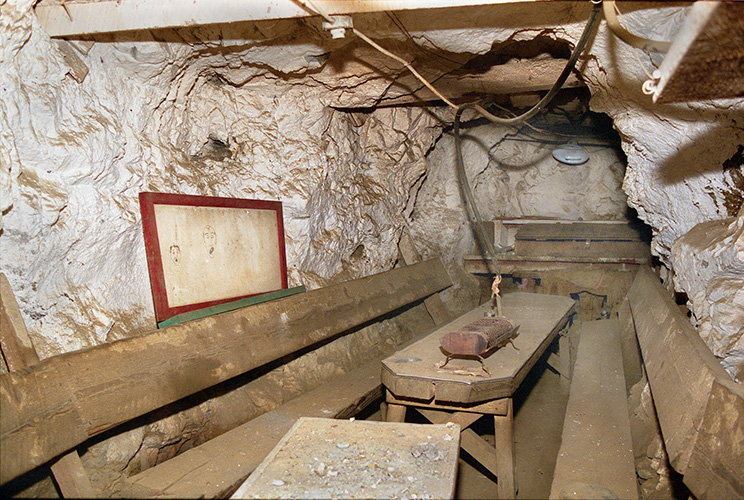 Abandoned underground lunch room with heater, in adit off main Radiore Tunnel, top level, Darwin Mines, California, 1996.
Darwin Mines was the second biggest silver mine in Southern California history, producing $29 million or more, depending on what figures you believe, from the 1870s-1966. Today, that $29 million translates into a not-shabby $4.5 billion (photo by Marcia Mack, scanned 35mm color negative film, 7c).
(Photo and text courtesy Irv Dierdorff)


07/23

Darwin Photocards Courtesy of Jeremy Warner



Darwin mining claim
Albert owned and worked mines in Darwin until 1920.
He died in 1923.