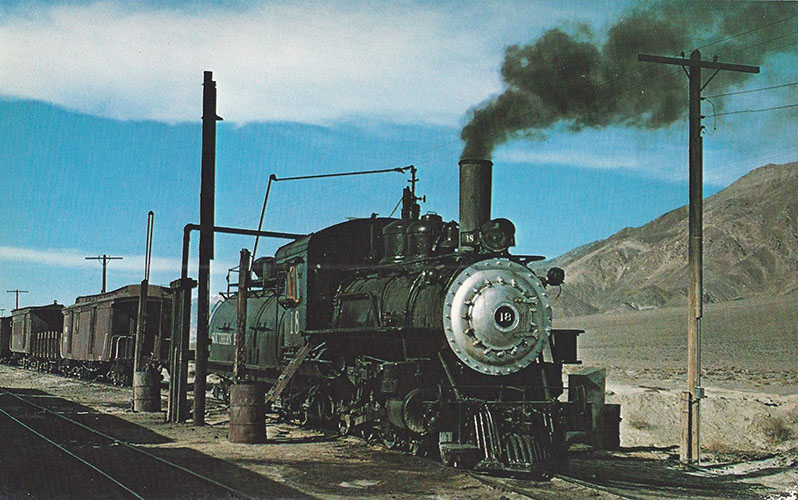 Tall stack a-smoking, a "hook-up" jointed steam pipe to the steam dome beside the ready-track, crude fuel-oil supplying the tender tank (and being heated by the "fireboy" you can bet) - what a picture of narrow-gauge steam on its last legs in the desert of California.
You wouldn't think it was February 21, 1954, at Owenyo - and with that old time string of cars behind, would you! Look at the glorious open-ender behind the little engine. Hard to believe that in just a mite over half a year more the little old ten-wheeler will run no more. In October a slim-gauge diesel, dubbed "Little Giant", took over, with big ceremonies - big bags of memory too.
Originally rails of the Carson & Colorado, which began farther north in Virginia & Truckee country in the 1880s, this three-foot venture stretched hundreds of miles south into Owens Valley. Mining of precious metals had been the promise up north; down here there was some ore too - but also soda and potash deposits. There was a future for the C&C - the builders thought. But, like most mining ventures, it worked out differently. Different too was the reason Southern Pacific bought the southern portion of the Carson & Colorado in 1900. They were going to standard-gauge it and run through from Southern California to their mid-continent Overland Route - and so to Salt Lake and the East. But, at this time, the Harriman Interests took over S.P. And the Harriman-run Union Pacific was taking over the San Pedro, Los Angeles & Salt Lake - to provide the much more direct route from the Southland north and east.
So the little three-footer out in the desert remained just that, relying mostly on soda and potash for survival. Survive it did, for many a year, connecting with Southern Pacific's standard gauge rails at Owenyo - running, in the beginning, from Benton in the north, to Keeler in the south. But the SPNG was eventually cut-back from Benton to Laws as its northern terminus.
The original eight Carson & Colorado wood-burning Baldwins, all 4-4-0s, were long-gone before #18 came to Southern Pacific from the narrow gauge Nevada-California-Oregon R.R. - in 1927. She had been #12 on the N-C-O.
But those early American types of the C&C were something in their day, all "gussied-up" with pretty names derived from the towns they served: "Candelaria", "Bodie", "Churchill", "Bellville", "Hawthorne", "Benton", and "Darwin". These were the only locomotives the Carson & Colorado ever owned, which also boasted six wooden coaches and one-hundred-eighty freight cars, half of them open-platform for haulage of ore and mine timber.
At one time the Panamint district, high in the Panamint Range, was a big shipping potential for ore, - and famed Cerro Gordo Mine, on the steeps above Keeler, was still around in the late 1870s. However, it was soda and potash deposits in Owens Valley that made up the backbone of traffice in the declining years of the C&C and later on for the same slim-gauge rails under Southern Pacific
(Photo and text courtesy of Rob Sarberenyi archives - 1954 postcard)